UC Riverside has received a $1 million grant as part of a University of California effort funding innovation and entrepreneurship in support of California's climate action goals.
The awards, announced March 1, are part of a $185 million partnership between UC and the state of California to tackle the climate crisis, from developing new methods for carbon capture to creating innovative coping strategies for drought, wildfire and other impacts of a warming planet.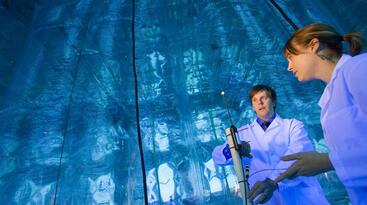 UC Riverside plans to deploy its funds to launch the OASIS Entrepreneurial Academy, which will offer education, mentorship, and assistance with commercialization to climate innovators from across the Inland Empire.
"Our region is facing many challenges related to climate change that need innovative ideas and technologies that can be quickly transferred to the marketplace," said Rodolfo Torres, vice chancellor for Research and Economic Development. "This award perfectly complements the infrastructure development of our OASIS Park — funding will support programmatic activities that involve the development and delivery of solutions that increase the climate resilience, adaptation, and mitigation capacity of the most vulnerable populations in the region."
Part of the broader OASIS initiative, the program seeks to expand opportunities particularly for communities underrepresented in STEM fields and lacking venture capital funding. The Office of Technology Partnership's entrepreneurs-in-residence will provide training and mentorship.
Grant funds will be directed to early career faculty conducting research and technology transfer on climate adaptation and resilience, said Rosibel Ochoa, associate vice chancellor for Technology Partnerships. 
Each of UC's 10 campuses will receive $1 million to seed climate-focused entrepreneurial efforts, as will the UC Health system, the UC statewide division of Agriculture and Natural Resources, the UC statewide Natural Reserve System, and the UC-affiliated Lawrence Livermore and Lawrence Berkeley national laboratories.
"Together, our campuses, national labs, and other UC divisions offer California a comprehensive portfolio of deep expertise, innovative ideas, scalable solutions, and strong commitment to the state," said Theresa Maldonado, UC's vice president for research & innovation. "We continue to endure persistent climate-related challenges, such as the recent atmospheric rivers and the extreme heat and wildfires in summer and fall. Everyone across UC is eager to play a role in developing placed-based solutions in partnership with communities, industry, and the state."
The two-year grants will build on the innovation and entrepreneurship resources that already exist across the UC system, with a focus on projects that will aid California communities, particularly those most vulnerable to climate disasters or which have borne the brunt of historic inequities.
The 2022-23 state budget provided the $15 million in funds as part of a larger investment in climate action projects that will have measurable impact over the next one to three years. Later this year, UC will award an additional $80 million in grants to researchers at higher education institutions across the state as part of its alliance with California lawmakers to bring cross-disciplinary, multi-sector expertise to bear on the climate crisis.