A research paper authored by Changcheng Zhou, a professor of biomedical sciences in the UCR School of Medicine, and his team has been selected as a "Paper of the Month" by the National Institute of Environmental Health Sciences, or NIEHS, of the National Institutes of Health.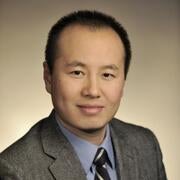 Titled "Paternal phthalate exposure-elicited offspring metabolic disorders are associated with altered sperm small RNAs in mice," the paper appeared earlier this year in the journal Environment International. Using a mouse model, it explained how fathers exposed to chemicals in plastics can affect the metabolic health of their offspring for two generations.
The study focused on dicyclohexyl phthalate, or DCHP, which is an endocrine disrupting chemical used commonly in plastic products. To the best of the research team's knowledge, the study is the first to show that paternal exposure to DCHP may have adverse intergenerational and transgenerational effects on the metabolic health of their offspring. Unsurprisingly, the U.S. Environmental Protection Agency recently designated DCHP as one of 20 high-priority substances for risk evaluation.