For a career in which he developed innovative methods for protecting crops from parasitic worms, J. Ole Becker has been named a Society of Nematologists Fellow.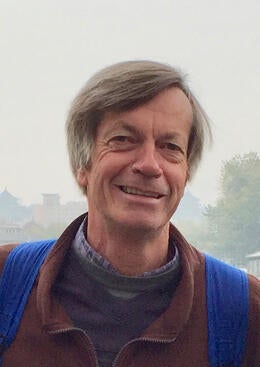 Nematodes are tiny, thread-like roundworms that feed on fungi, bacteria, other nematodes, and plants. While feeding, nematodes can induce plant deformation, which interfere with water and nutrient uptake, severely impacting plants' ability to grow. They also create wounds that can leave roots vulnerable to infection by other disease-causing organisms in the soil. 
Most vegetable crops, as well as trees and vines, are susceptible to nematode infection. Becker, a 30-year member of UC Riverside's Department of Nematology, works on ways to stop the worms while having minimal impact on the surrounding environment. 
"He has truly been at the forefront of developing innovative, integrated methods for treating these pests," said Andreas Westphal, professor of Cooperative Extension in Nematology, who works with Becker. "Some techniques he pioneered have changed entire industries."
For example, Becker developed seed coatings that protect against nematodes, since plants are most susceptible to them right when they germinate. Seed treatments dramatically reduce the amount of chemicals required for crop protection and are safer for the individuals applying the chemicals.
Becker is also internationally recognized for developing innovative biological methods of nematode treatment, which involve the addition of organic materials to the soil that stimulate the worms' natural enemies, or changing the soil in other ways that suppress worm populations. Methods like these not only help control plant-parasitic nematodes, but also hugely reduce the environmental footprint of agriculture.
"He truly has set an example working with both chemical and biological means, which are equally important," Westphal said. "Many scientists really focus, and only go one route. Becker exemplifies how to cover both to achieve maximum effectiveness."
Becker obtained his doctorate in agricultural sciences with a specialization in plant pathology at the University of Göttingen, Germany. After several years in international biotech and agrochemical industries, he joined UCR as assistant cooperative extension specialist and AES nematologist in 1992.
No more than 0.4% of the Society of Nematologists' living members are elevated to Fellow status in a given year. Early in his career, he was recognized with the society's Novartis Award for outstanding accomplishments in the field.
Becker is also a Fellow of the American Association for the Advancement of Science, and of the Japan Society for the Promotion of Science.