UC Riverside Athletics Director Wesley Mallette has been named one of the "100 Most Impactful People in Men's College Basketball" by a sports media organization.
The 4th annual list released recently by Silver Waves Media includes coaches, directors, event operators, executives, and other professionals seen as making a difference at the highest level.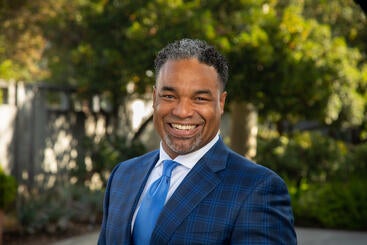 The group credits Mallette for successfully steering UCR's Intercollegiate Athletics through its biggest crisis – when the prospect of eliminating the program was explored in 2021 – and leading it towards financial sustainability.
Since then, the program has seen its teams set record seasons. Last year, the men's soccer team won the regular season and tournament championships in the Big West Conference. Most recently, men's basketball had its best two seasons in Division 1 history with Mike Magpayo as the first Asian American men's basketball head coach in NCAA Division 1 and the team finishing in the top 3 in the Big West.
"Under Mallette's leadership, the Highlanders will keep on surging," Silver Waves Media stated.
Mallette said it was an honor to be named to Silver Waves' list and he is proud to lead UCR's Athletics program.
"The ability to make an impact at this level requires commitment, dedication, patience and an understanding of what it takes to build something special at the Division I level," he said. "We have a fantastic group here and this recognition is really about the work our coaches, staff and student-athletes put in every day. We are committed to the process, and we just keep chopping wood. Now, we are seeing the results and it is a joy to be able to represent UCR and make our campus and community proud."