UC Riverside creative writing professor Laila Lalami has been selected for Harvard University's prestigious Radcliffe Institute fellowship for the 2023-24 academic year.
An acclaimed novelist, Lalami has been named a Catherine A. and Mary C. Gellert Fellow. She will spend the academic year researching and working on her new novel, "The Dream Hotel."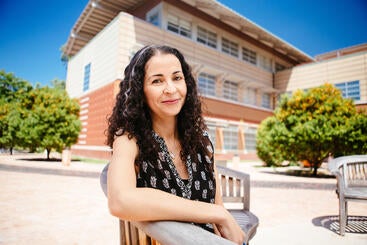 "The Radcliffe Institute fellowship is an extraordinary opportunity to conduct research at Harvard University and learn from scholars in widely different fields," Lalami said. "It really is a wonderful honor to be selected among this year's cohort of distinguished scholars and thinkers."
A Radcliffe fellowship offers scholars in the humanities, sciences, socials sciences, and arts – as well as writers and other professionals – an opportunity to pursue ambitious projects for a full year in an interdisciplinary environment with Harvard's resources. This year's class, announced on May 5, represents 3.3% of the applications Radcliffe received.
"This year's cohort promises, once again, to accomplish incredible things," said Tomiko Brown-Nagin, dean of the Radcliffe Institute for Advanced Study. "As ever, we have outstanding fellows with expertise in a wide range of fields."
Lalami is the author of five books and has won an American Book Award and a Joyce Carol Oates Prize. She was a finalist for the Pulitzer Prize.
Her new novel is a work of speculative fiction about a museum archivist who is detained by government agents after an algorithm determines she will commit a crime.