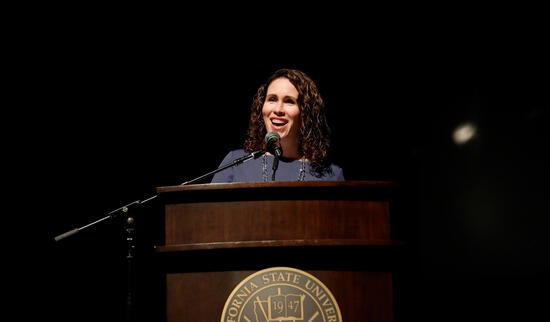 The American Educational Research Association has honored UCR School of Education professor Tara J. Yosso with a Lifetime Achievement Award for her distinguished research achievements. 
AERA's Division G recognized Yosso for "Distinguished Contributions to Transforming Social Contexts of Education Research."
Yosso's research over the last two decades has examined why educational equality remains elusive, and how society has internalized myths about why disparate schooling outcomes persist. 
"There is a tendency to assume the problem resides with students of color," Yosso said. "These claims that communities of color don't value education have been repeatedly debunked with extensive evidence, but they persist—meanwhile those unequal schooling structures and discriminatory practices remain intact." 
Her research challenges these "deficit" approaches and names an array of cultural knowledges, skills, abilities, and networks utilized by people of color to survive and resist racism and other forms of subordination. Her model of community cultural wealth, published in her 2005 article "Whose Culture has Capital?" in the journal Race Ethnicity and Education has been cited over 10,000 times and has had great impact within and beyond schools. She is called on to present dozens of keynotes each year for school districts, college/university executive teams, faculty, and student affairs officers. 
Yosso has also received several accolades. In fact, the Color of Change organization established an award in her name -- the "Tara J. Yosso Award for Excellence in Counterstorytelling in Education." She was recently named a Research and Policy Fellow at the University of Kentucky's new Education and Civil Rights Initiative, and in January 2024 will begin serving as UCR School of Education's associate dean for academic personnel. Yosso also continues to create and teach new courses, conduct research, and mentor rising scholars.  
"This award inspires me to renew my dedication to doing work that links theory with practice, scholarship with teaching, and the academy with the community."  
Yosso grew up and attended public schools in San José, California. She earned her bachelor of arts degree from UCLA with an individual major she designed, and her doctorate in education, also from UCLA, with an emphasis in Chicana/o studies and visual sociology. She was recruited to UCR in 2017 as part of a cluster hire seeking scholars researching the populations that renowned author Américo Paredes identified as part of "Greater Mexico." Yosso previously served as a faculty member at UC Santa Barbara and the University of Michigan.
"This AERA Division G award is a tremendous honor, and I am deeply humbled to be recognized for my research. As a first-generation college student, an alumna of the University of California, and a mother of two school-age children, I hold a very personal commitment to carrying forward the efforts of all those came before me in this long struggle."