Jorge Leal, an assistant professor of history, has been awarded a Career Enhancement Fellowship from the Institute for Citizens & Scholars.
Leal is one of 20 new fellows for the 2023-24 academic year announced July 13. The fellowship, funded by the Mellon Foundation and administered by the institute, seeks to increase the presence of underrepresented faculty members in the humanities, social sciences, and arts.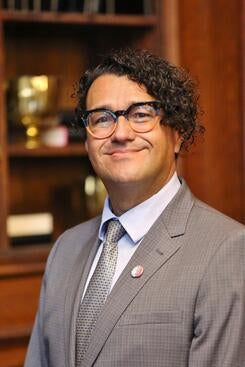 The program offers career development opportunities for junior faculty with promising research projects, providing a six-month or 12-month sabbatical stipend. Fellows also receive mentoring and participation in a professional development retreat.
Leal, selected as a six-month fellow, will use the opportunity to focus on his book on 1990s Los Angeles transnational music cultures. His study demonstrates how Latinos in Southern California created community and belonging through expressive culture, pushing back against xenophobic politics.
"The participants in 'Rock en Español' music culture were immigrants from different Latin American countries who, through their participation in a music scene, as fans, musicians, or writers, began to create bonds of solidarity with their fellow immigrants and with U.S.-born Latinas/os," Leal said. "This pan-Latina/o solidarity emerged over tensions over different national origins and citizenship statutes."
A cultural and urban historian of the Mexican and Latino experience in Southern California, Leal was also a rock critic and concert producer in its music scene.
He credited his students with helping evolve his manuscript based on their responses to his lectures and thanked his faculty colleagues in the history department and at the College of Humanities, Arts, and Social Sciences who supported and guided him through the application process.
"I look forward to completing my book to share with my students and continue these insightful conversations in the classroom and on the UCR campus," Leal said.