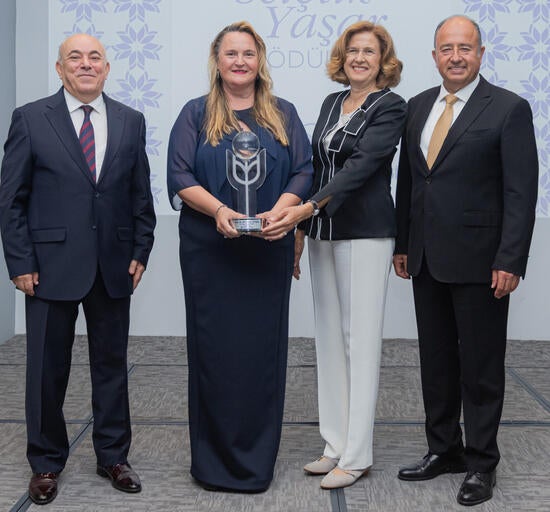 Mihrimah Ozkan, a professor of electrical and computer engineering at UC Riverside, received the Selcuk Yasar Award at a recent ceremony in Cesme, Turkey, for her work in addressing climate change. 
The award was established by Yasar University in Izmir, Turkey, to promote innovation and social responsibility, and to celebrate the work of Turkish people whose work benefits the entire world.
"As the Climate Action Champion professor of the UCR, my objective is to act as a bridge in the global energy transition and to develop and put into practice well-designed technological methods inside the cause-effect-solution triangle," Ozkan said. "Unfortunately, countries that do not take climate change seriously are putting their futures at risk and laying the groundwork for extinction. 
"I would like to thank Yaşar Holding and Yaşar University for focusing on the theme of climate change and global warming this year and drawing attention to the importance of this issue. The effects of global climate change are felt all over the world, from the highest peaks to the depths of the ocean, from the equator to the poles." 
Ozkan, who was born in Ankara, Turkey, graduated from the Department of Metallurgical and MaterialsEngineering at the Middle East Technical University in Turkey in 1988. She went on to get a master's degree at Stanford University and a doctoral degree at the University of California, San Diego, before joining UCR faculty at the Department of Electrical and Computer Engineering in 2001.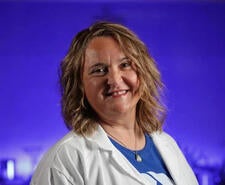 Ozkan has dedicated her career to developing green technologies to fight climate change and other environmental problems. Her research explores new materials for improved, low-cost, and environmentally friendly energy storage and performance that can also be produced at an industrial scale.  Her laboratory has engineered an array of materials including organic greens, waste glass and plastic bottles, beach sand, and carbon-based materials at the nanometer scale for use as anode or cathode materials to create superior "green" batteries. Her group recently developed lithium-ion batteries that last three times longer than graphitic batteries still in use.
She developed a reusable, sponge-like material that can soak up oil spills, partnering with a design firm to create a futuristic "sponge bikini" that cleans sea water as the user swims.
Her highly influential work has been published 345 times and cited in academic papers more than 11,600 times, according to Google Scholar. She also has 47 accepted patents and 10 active patent applications. 
In 2019, Ozkan became the first woman in the Marlan and Rosemary Bourns College of Engineering to be elected as a Fellow to the National Academy of Inventors, for her innovation in creating or facilitating outstanding inventions that have made a tangible impact on quality of life, economic development, and the welfare of society. And she is an editorial board member at the Oxford Open Climate Change, a journal operated by Oxford University Press. Click here for more of her climate related activities and successes.
She approaches her work with a sense of urgency. If early measures are not taken, many regions of the globe may become uninhabitable due to extreme heat and drought, she said.
"While severe drought and water crises are experienced on one side of the world, floods and hurricanes are seen on the other side," Ozkam said. "Local migrations due to extreme heat and drought can be a norm in the near future." 
A partial list of Ozkan's climate-relate activities:
The Lead Organizer
of the Climate Change Mitigation Technologies Symposium at the Fall Materials Research Society Conference Dec.2021, Boston
The Lead Guest Editor
of the April 2022 issue of MRS Bulletin Journal on "Materials for Carbon Capture Technologies"
Distinguished Speaker,
"Can Direct Air Capture of CO2 and Electrification of Mobility Help with the Climate Crises and Satisfy the COP26 Pledges?" OntarioTech Engineering and Applied Science, Nov 16 2021
Interview with
Turkish Academy of Sciences, Energy, Climate Change and Sustainability, Nov.14 2021
MSE Semina
r at the UC Irvine, "Ways to mitigate climate change -Direct air capture of CO2 and electrification of mobility", Nov. 4th 2021
Keynote Speake
r, "Creating a Sustainable Battery Framework for a Climate Neutral Future", at the UC Center Sacramento, October 2021
The Lead Editor and Author
, The Promise of Scalable Direct Air Capture, CHEM Voices, Cell Press, October 2021 (Coauthors, CEO of Climeworks, President of National Academy of Sciences, CEO of Carbix, President of National Academy of Inventors, Acting Secretary of DOE and more).