Carlos Galan, a recent recipient of a UC Riverside School of Education doctorate, has been named a 2023 Diverse Rising Graduate Scholar by the academic news source "Diverse: Issues in Higher Education." 
One of only 10 scholars selected from a nationwide nomination call, Galan has joined the publication's third cohort of  "exceptional graduate students [selected] based on their standout scholarship thus far and their trajectory toward a promising future in academia and beyond," according to a press release by the publication.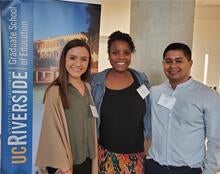 Raquel Rall, associate dean of strategic initiatives for UCR's School of Education, submitted the nomination. 
"When I saw the call for nominations, Carlos instantly came to mind because he models diversity and excellence at the same time," Rall said. "Too often society considers these two descriptors to be mutually exclusive but Carlos has demonstrated that an individual can come from a diverse background, study topics related to diversity, engage in equity-centered practice, and continue to make the academy better for marginalized groups. He centers diversity, equity, and inclusion in all he does." 
Galan's "elevator pitch" of diversity: He immigrated to the United States from El Salvador at the age of 15, speaking little English at the time. Since then, he has earned a bachelor's degree from UCLA in 2013, a master's from USC in 2018, and a doctorate from UCR in 2023. 
"It is an honor and a privilege to be named a Diverse Rising Graduate Scholar," Galan said. "Higher education, particularly a Ph.D., is not done alone. During my five years at UCR, I have been fortunate to count on Dr. Rall's guidance, support, and leadership. My nomination and recognition speak to the personal and professional support I have received from mentors and femtors, particularly from Dr. Rall. It is a commitment to do good work and work that matters through my research, teaching, and practice. It also reinforces the ways in which I have attempted to pay forward all the support and guidance I have received throughout my career." 
Galan is currently the director of research and evaluation at City Year, a national non-profit organization.  
"In this role, I assess the impact of eight youth-serving organizations in K-12 education across California, focusing on improving outcomes for underserved students and developing a talent pipeline of educators through AmeriCorps programs," Galan said. "In the future, I would love to become a university professor and hope to become a university administrator."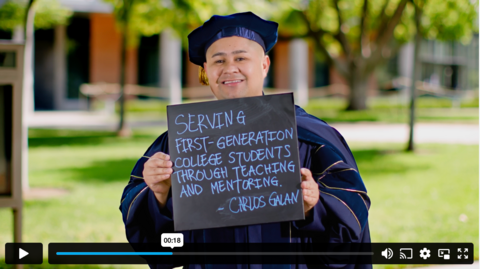 Learn more about Galan's experience of learning, navigating, and excelling in the American education system, while facing, fighting, and prevailing against person-of-color challenges: