Esther Omaiye, a postdoctoral researcher in the Department of Molecular, Cell and Systems Biology at UC Riverside, has been awarded a three-year, postdoctoral grant exceeding $305,000 from the University of California's Tobacco-Related Disease Research Program, or TRDRP, to investigate how ratios of solvents and chemical mixtures in e-cigarettes influence their toxicity.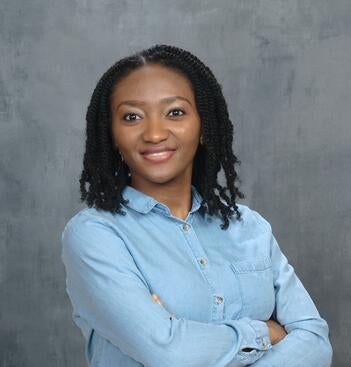 "Given the heightened concern about the use of flavor and other chemicals in e-cigarettes, the data from this research will be important and relevant in contributing to ongoing efforts to establish new regulatory guidelines for constituents of emerging tobacco products," Omaiye said. 
The proposed research will use advanced techniques to evaluate the harmful effects of e-cigarette constituents on humans and contribute to scientists' understanding of how e-cigarette aerosols affect human lung health. 
"Our findings will also emphasize the need for consumer education on the dangers of inhaling aerosolized chemical constituents in e-cigarettes, which could lead to unwanted or adverse health effects from continuous use and exposure," said Omaiye, who will work on the research with Prue Talbot, a professor of the Graduate Division at UCR. "Our research will focus on the mechanisms of tobacco-related diseases and provide data that will inform regulatory policies at both the state and national levels by agencies such as the Food and Drug Administration."
Omaiye worked with emerging tobacco products, such as e-cigarettes, in her doctoral research at UCR, which already contributed much-needed data to scientists' understanding of the chemical constituents in e-cigarettes. 
"As a postdoctoral researcher, I want to understand how certain combinations of these chemicals influence the toxicity of the aerosols generated from e-cigarettes," she said. "Performing the experiments in controlled lab settings will help provide data supporting the regulations of e-cigarette chemical constituents concerning their use and health effects. I am very excited about the opportunity TRDRP has given me."