The UCR School of Medicine has received a gift of $620,000 from HCA Healthcare, Inc., one of the nation's leading healthcare providers, to support five scholarships for students enrolled in the medical school. 
The gift will fund two Dean's Mission Scholarships and three Dean's Mission Awards. The Dean's Mission Scholarship is a four-year award offered to strong, mission-fit applicants enrolled in the UCR School of Medicine to cover the complete cost of tuition. The Dean's Mission Award is a two-year award to cover all required university fees not covered by other need-based financial aid sources.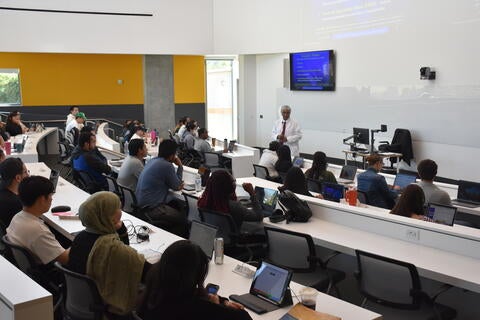 "We're incredibly grateful to HCA Healthcare for their support towards our Mission Award Scholarships program," said Daniel Teraguchi, executive associate dean for student affairs at the UCR School of Medicine, who occupies the Salma Haider Endowed Chair for the Thomas Haider Program. "Their generous gift will remove a financial barrier for aspiring students to become physician leaders with a goal to create a healthier and more accessible healthcare system for the Inland Southern California community." 
Tim McManus, president of HCA Healthcare's national group, said he is proud to support UCR through the gift to provide more students with access to a medical school education.
"We've seen firsthand how our partnerships with local colleges and universities strengthen both the community and our hospitals," he said.  
Sherri Neal, chief diversity officer of HCA Healthcare, said it was "an honor to be able to invest in the next generation of medicine." 
"We believe that creating opportunities for future physicians to learn and serve in their communities creates a stronger, inclusive health system and a higher quality of care for our patients," she said.
Based in Nashville, Tenn., and founded in 1968, HCA Healthcare has a history of partnering with higher education institutions to create opportunities for the next generation of healthcare leaders. It has created a new model for hospital care in the United States, using combined resources to strengthen hospitals, deliver patient-focused care, and improve the practice of medicine.