Chancellor Kim A. Wilcox urged the campus community to envision what UC Riverside will look like at its centennial birthday in 2054 at a town hall meeting Thursday, Dec. 6 at the HUB.
With the campus gearing up for its next strategic plan, Wilcox told about 300 faculty, staff, and students that they should think long term about the university's goals.
"We need to aspire to great things because great things can happen in 30 years," he said.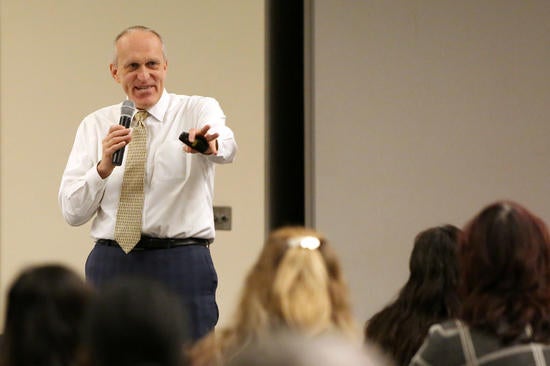 Wilcox looked back at the nearly completed 10-year strategic plan, UCR 2020: The Path to Preeminence, as an example of how the campus can approach its planning.
One aim of that plan was to meet the benchmarks set by the Association of American Universities, a group made up of the top 62 universities in the nation. The exclusive group maintains an invite-only membership of what it considers the leading comprehensive research universities in North America.
"We have broadly achieved the profile of an AAU university," Wilcox said.
The 2020 plan goals were increasing academic excellence, enhancing access, promoting diversity and inclusion, and engaging regionally and globally.
Those achievements are reflected in UCR placing No. 35 in U.S. World & News Report and No. 15 in Washington Monthly among public universities in their respective 2019 college rankings, the chancellor said.
Wilcox noted that only three years earlier he took issue with the criteria U.S. News used to measure colleges and universities. He had argued that other factors, such as helping students from low-income families achieve success, should be considered as well.
That conversation, Wilcox said, foretold changes this year in which U.S. News gave greater weight to student outcomes and social mobility – moving students from lower to higher income brackets.
As a result, UC Riverside was the fastest-rising university on the list, going from No. 124 in 2018 to No. 85 in 2019.
"That is a credit to all of us," Wilcox said. "We stayed the course when other indicators would shove us in a different direction."
During his presentation, Wilcox favorably compared UC Riverside's demographic changes from 1980 to 2020 to those of UCLA and UC San Diego.
"We have momentum that none of those schools had in 1980," he said. "We're on a faster trajectory."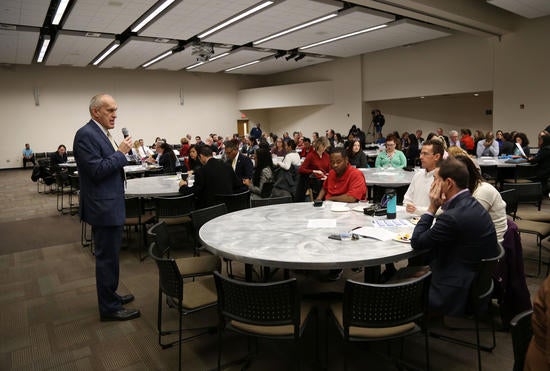 Wilcox said he expects the campus to follow a similar process as it did for the 2020 plan, with the formation of campus committees in the winter quarter.
At the end of the meeting, Wilcox took questions from attendees on topics including support for economic development, sponsored research, and providing more resources to students from a diverse background.
Wilcox said the university should do more on all three fronts.
"Part of our challenge is how do we take pride in what we're doing and recognize we have more to do," he said.
Watch the town hall meeting here.