UC Riverside Provost and Executive Vice Chancellor Cynthia K. Larive celebrated recent research successes, promoted ways to improve the campus climate, and outlined how the campus plans to help more students carry a full load of classes during a town hall meeting Wednesday.
Encouraging students to take more units each quarter will be a campus priority going forward, Larive told the packed crowd during an hour-long town hall Wednesday at the Highlander Union Building.
Student course load is important because it affects how much state funding the university receives, she said. The formula used by the state divides undergraduate student head count by 15 to determine the Full Time Equivalent or FTE. If students take fewer than 15 credits per quarter on average, UCR's FTE is smaller than its headcount and the university receives less state funding.
UCR students have averaged just over 14 units per quarter since 2013-14 with increases the following two years. But in 2017-18, the average went down from 14.46 to 14.34.
"This is a concern for me," the provost said. "If students are not taking enough units each quarter, it means our graduation rates are likely going to drop in the future."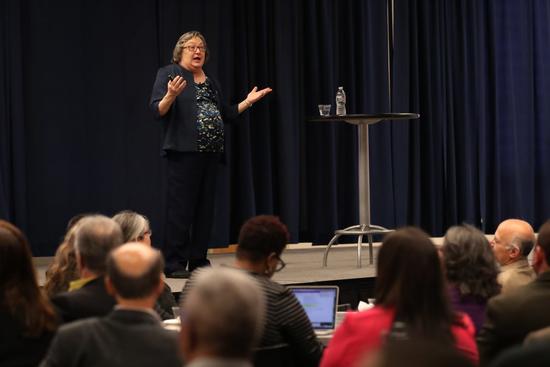 Promoting summer courses and offering more online options are among the steps the campus can take to help students complete more units, Larive said. The summer session is a great opportunity for students to catch up, study abroad, or pick up a minor while helping to increase funding for the university.
"It enlivens our campus," Larive said. "We don't want this to be a desert in the summer. We want students, faculty, and researchers to be interacting."
The university will be launching a pilot Summer Campus Work Study program this year that will provide jobs on campus to about 325 students who take at least eight units of classes. The program offers students employment and mentorship they can use in their future careers while also encouraging summer enrollment, Larive said.
UCR is also looking at how it can expand online, hybrid, and distance-learning programs, she said. Future efforts will focus on bottleneck courses that help students make progress toward their degrees.
Such programs help students who live far from campus, military members, and those going home for the summer or working part-time jobs, Larive said.
"All of these ideas roll up really to ensuring access to a UC education," she said.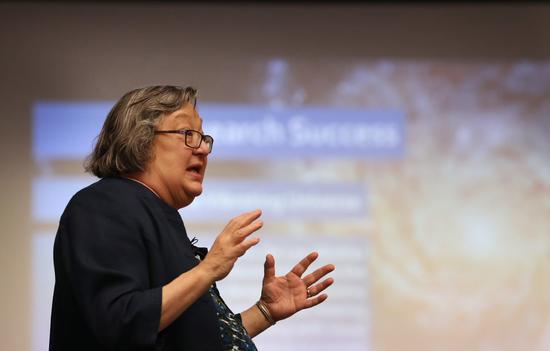 As the university maximizes its resources, Larive acknowledged that many across campus will "feel this squeeze" as a result of having to do more without increased resources. She said the campus hopes to increase its staffing resources in the future.
Despite the squeeze Larive advised that the campus not lose sight of the campus climate by promoting inclusivity, listening to one another, and practicing empathy.
"Our overall campus climate is made up of microclimates, and our actions affect these climates every day," she said. "We all have to take responsibility for our microclimates to make the campus climate better."
The campus has launched a new website help.ucr.edu that lists a variety of programs such as counseling and the University Ombuds that are available to those who need help.
Other highlights from the town hall included:
Larive took questions from the audience and encouraged anyone with additional questions or comments to email her at provost@ucr.edu.
The full video of the speech will be available on the provost's website.