Seventy-seven students make up the UC Riverside School of Medicine's class of 2023, the school's largest batch of incoming medical students. 
On Friday, August 9, 2019, the students received their white coats — a rite of passage for medical students marking the beginning of their careers. For the first time, the school has admitted twin siblings into the four-year program — and there are two sets.
Diana and Denise Ornelas, 25, grew up in La Puente and received bachelor's degrees in biology from UCLA in 2016. They were both accepted at the UC Davis medical school as well, but chose UC Riverside because they felt connected to its mission to serve the Inland Empire's underserved population. 
The sisters have already acquired experience working in vulnerable communities in south Los Angeles and the Inland Empire. Both are especially interested in serving the Latino community in Southern California and reducing the health care disparities in the region. When they're not studying, Diana and Denise enjoy working out, shopping, Mexican folk dancing, and playing doubles tennis. While most of their interests are common, the twins differ in what kind of residency training they would like to do: Diana has her sights set on family medicine and obstetrics & gynecology; Denise is interested in pediatrics. 
UCR alumni Francis and Arnold Gan, 23, grew up in Walnut. They have returned to campus two years after receiving bachelor's degrees in biology, drawn in large part by the mission of the medical school. Products of the mini medical school program at UCR, they have volunteered in free medical clinics in Riverside and San Bernardino. The brothers are interested in establishing careers in an area that is medically underserved and home to immigrant communities. In their spare time, they enjoy boxing and wrestling. The Gan twins join 22 other UCR alumni who are members of the Class of 2023.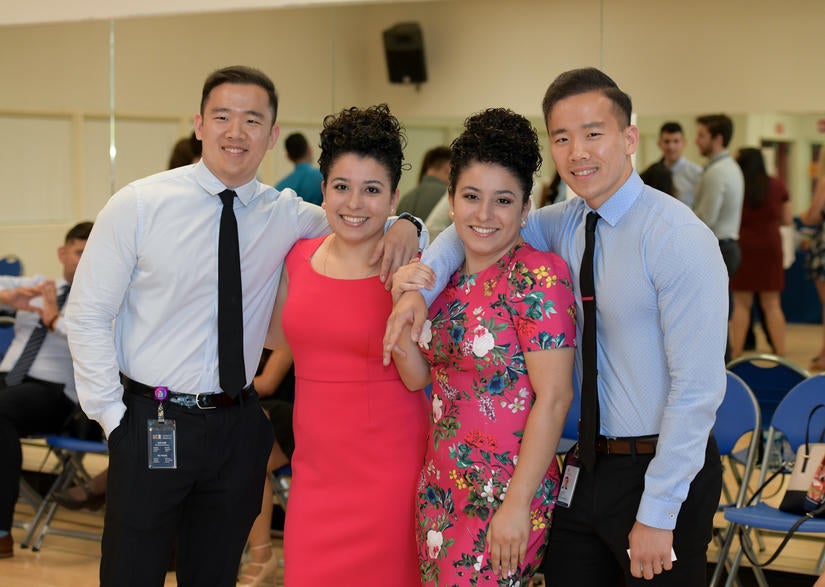 Dr. Deborah Deas, the vice chancellor for health sciences and the Mark and Pam Rubin Dean of the medical school, welcomed the class of 2023 to the UCR School of Medicine family at the white coat ceremony, which took place at the Student Recreation Center and was attended by families and friends of the incoming class of students, as well as several UCR faculty and staff.
"Today you are embarking on an important journey — one that will start a lifelong commitment to the study of medicine," she said. "The white coats represent the beginning of your medical training and your first interactions with patients. I encourage you to think about what it means to wear it every day, and I hope that you wear it with pride and professionalism. You are among the few chosen to walk this challenging and rewarding path, and I hope you will be honored to wear it throughout your career."