The flock is gone. Months after Bird and Lime dropped hundreds of electric scooters around UC Riverside, the companies have pulled out of the city.
Electronic scooters first began appearing around campus — and the city of Riverside — in September with many students using them as a means to get around. At one point, Bird reported to UCR that it had around 90,000 rides over a three-and-half-month period.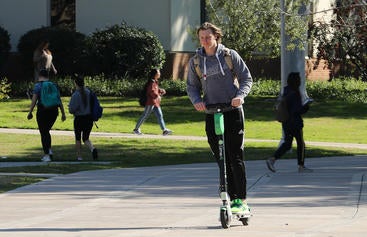 But the once-ubiquitous scooters dwindled in numbers in recent months, and there are currently no operators in Riverside, according to the city.
"It was a slow drop-off after the fall," said Irma Henderson, UCR's director of Transportation and Parking Services.
The remaining scooters are privately owned by students, staff, or faculty, she said.
The influx of scooters on pathways and sidewalks designed for pedestrians raised safety concerns, especially as they joined the mix of skateboards and bicycles. Existing UCR policy — in place since 2010 — prohibits electric scooters on sidewalks and pathways except in manual mode.
At one point, UCR seized around 500 scooters left by riders on campus, including many haphazardly left on sidewalks and other pathways. They were held at the Transportation Services corporation yard until the companies were contacted and paid impound fees.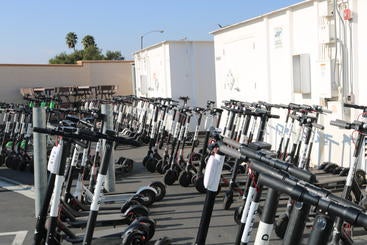 UCR worked with the scooter companies to put in place a geofence — a virtual boundary delineating where scooters could operate — around the campus. Riders are notified once they enter a no-ride zone and are unable to start a session in those areas, Henderson said.
Campus leaders also convened a working group that began meeting in October to explore solutions to the proliferation of scooters and craft a long-term plan for how bicycles, skateboards, and other wheeled devices can safely operate on campus.
The group, which includes campus planners, transportation officials, and police, has consulted with other universities and the city of Riverside as they work on a policy to recommend to campus leadership.
Meanwhile, Riverside has imposed its own rules, adopting a permit and fee program Aug. 7 that allows up to four companies to deploy scooters in the city. The 18-month pilot program sets speed limits, bans scooters in city parks, and requires companies to remove scooters that are improperly parked in the public right-of-way within two hours of being given notice.