Exploded bark from neighborhood Eucalyptus trees. A taste of roadside beef jerky. Navigating one's Indian Muslim heritage. These are among the many paths to creative inspiration explored in the new season of "The Creator State."
The first two episodes of the UC Riverside podcast's second season debuted this month with more to be released on a biweekly schedule through the fall. Hosted by playwright Rickerby Hinds, the podcast features conversations with writers, artists, entrepreneurs, and others about what inspires their creativity and the transformative role education played in their lives.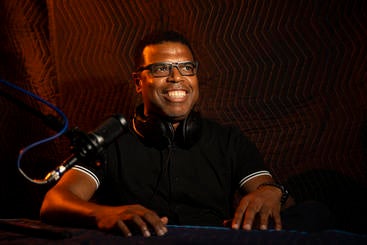 "The interviews are really looking at these folks who have done or are doing dynamic things," said Hinds, a professor and chair of playwriting in UCR's Department of Theatre, Film, and Digital Production. "If there's a common theme it's unbridled passion for what they do."
The podcast debuted last year with four episodes and is returning with more than twice as many this year. The guests all have some sort of connection to UCR, whether they're faculty, alumni, or involved in education.
"There's a great mix of voices, stories, and experiences in this season," said Jennifer Merrett, the show's producer and a development/campaign communications manager at UCR. "Listeners will find a lot of wisdom while getting a glimpse into the creative process and minds of guests who are doing really incredible work."
Hinds likes to keep the interviews as conversational as possible, allowing for discussions to go in unexpected directions.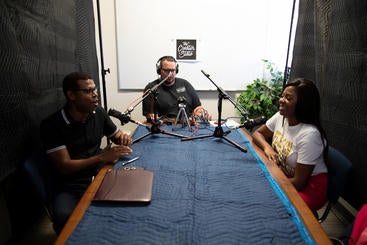 "I hope people would be inspired by hearing people's journeys or maybe trajectories to success," he said.
The first episode of season two features Susan Straight, a distinguished professor of creative writing at UCR and author of a new memoir, "In the Country of Women." A Riverside native who still lives in the city, Straight describes how one night, while walking her dog, she noticed how the bark from eucalyptus trees had exploded into white shards that covered nearby roofs due to a wet spring and 108-degree weather that day. That scene was an example of how everyday details inspire her writing.
"What I see is always a narrative as well as detail, like how did that bark look and how did that happen?," Straight said. "What's the story of why it took this particular weather on this particular day? I've lived here my whole life and never seen it explode. For me, it's always the story."
For Eugene Kang, co-founder and CEO of the San Bernardino-based Country Archer Jerky Co. and episode two guest, his inspiration came during a stop for snacks while on a road trip to the Grand Canyon eight years ago.
He loved the beef jerky so much he tracked down the maker, an 80-year-old Italian butcher in Grand Terrace who sliced and marinated the jerky by hand and prepared it without using preservatives. Kang, who grew up working in his family's convenience stores, ended up purchasing the company with a partner.
 "The light bulb just went off and we said, 'This is kind of cool. We could be the craft beer of meat snacks,'" he said.
Listerners can also look forward to hearing from the following guests:
Fatima Farheen Mirza '13, who talks about her debut novel, "A Place for Us," a New York Times best-seller in which Mirza draws from her own experiences in to tell the story of an Indian American Muslim family. "In fiction, what you're after is not what happened, but what it meant," she said.


Learn more about Fatima Farheen Mirza

Nwaka Onwusa '08, who tore tickets at the UCR box office as a student, discusses her career ascent to curating music history at the Grammy Museum and now the Rock & Roll Hall of Fame, where she took over as director of curatorial affairs earlier this year.
Photographer and artist Chris Jordan discusses environmental advocacy and how his UCR ARTS exhibition "Intolerable Beauty" explores mass consumption, global plastics pollution, and the beauty of nature.
Author and UCR alumna Regina Louise '15 talks about how her memoir about growing up in the foster care system inspired the Lifetime movie "I Am Somebody's Child: The Regina Louise Story."
UCR alumna Taylor Pollard '16 tells the story about how she and her sister Kheris Rogers co-founded a clothing line two years ago when Rogers was only 10 years old. They first used the company name, Flexin' In My Complexion, as a hashtag on Twitter in response to bullying Rogers faced at school over her skin color.
Additional guests will be announced in the coming weeks.
"The Creator State" is available through iTunes, Stitcher, Google Play Music, and Spotify. Anyone who would like to submit guest suggestions or share information about something they're creating can send an email to creatorstate@ucr.edu.