For decades, the UCR Botanic Gardens have served as a quiet getaway tucked in a corner of campus where one can explore and enjoy nature.
The 40-acre living plant museum still stands as an oasis from the bustle of campus, but some changes have been implemented in the past three years to modernize and improve the experience for visitors.
They include a renovated and expanded restroom, a revamped membership program and newsletter, an Instagram account (@ucrbotanicgardens), and new technology to help guide tours. The garden is also selling merchandise and there are plans to add new gardens with different plant species.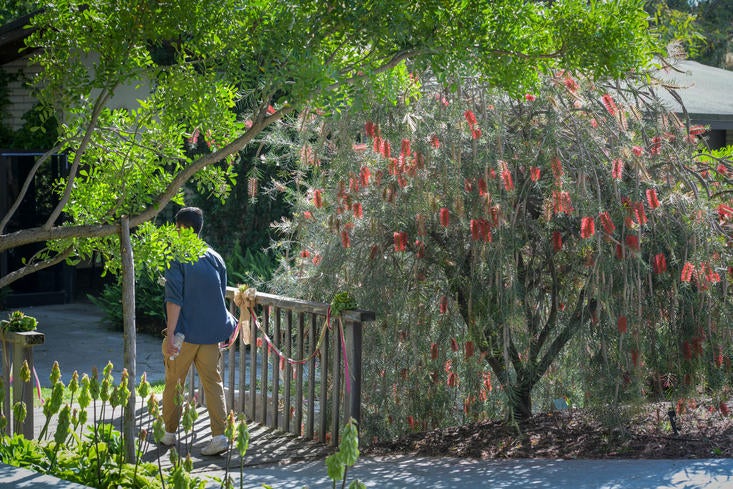 When Jodie Holt took over as director of the Botanic Gardens three years ago, she began looking into its finances and discovered there were funds socked away for a rainy day.
"We made the decision we want to invest the money to improve it and promote it," she said. "If we did, people would come and support it in a greater way," she said.
One of the most prominent improvements is the renovation of the entrance gatehouse/restroom building, a 40-year-old structure that was in poor condition, Holt said.
The two restrooms were remodeled, and one now meets federal disability access requirements with new fixtures such as toilets, sinks, and doors installed. The exterior and interior were painted, new LED lighting was added, a new sidewalk outside the building was paved, and a railing along the sidewalk was installed. The building also has a hydration station where visitors can fill up their water bottles. The improvements were completed in April.
"The entrance gatehouse building is one of the first things our visitors see, and it is important that it be attractive, functional, and present UCR and the Botanic Gardens in a positive light," Holt said.
The redesigned sidewalk maintains access to a donation box and cashier window — the only university-approved site where the garden can collect donations. Holt said the site could also be used for future pop-up shops and possibly expanded into a gift shop at some point.
The Botanic Gardens has been able to expand sales with the launch of a new visual brand last year, which is being placed on merchandise including T-shirts, baseball caps, water bottles, and tote bags. 
Its regular plant sales continue to attract crowds, but Holt said the garden is putting its focus on selling unique plants grown on site while inviting local vendors to sell other types.
Another new feature at the Botanic Gardens is the use of mapping technology to offer visitors wayfinding and additional information about the plants and features they see.
The geographic information system technology has also been used to create a story map of the North American desert garden, providing names and descriptions of plants as visitors walk through. Holt said she expects the mapping program to be expanded to more gardens.
Plans are also underway to add new gardens. One will feature plants indigenous to local Native American lands. The Native American Student Program and local tribes are working with the Botanic Gardens to design and start planting the garden in October, Holt said.
Another one in the works is a bee garden, which will feature native plants that the insects are attracted to, and bee boxes. Holt said the Department of Entomology is assisting staff with the project.
The new features give visitors a chance to make new discoveries when they tour the gardens.
"We really tried to make it a destination for Riverside and the whole Inland Empire," she said.