California citrus growers and the University of California, Riverside have joined forces to open a research lab to defeat a disease that has decimated citrus crops in Florida and China. 
The disease, Huanglongbing, or HLB, is caused by bacteria spread by a tiny insect called the Asian citrus psyllid. HLB prevents fruit from ripening properly, resulting in a harvest with no commercial value. It has been detected in over 1,500 backyard citrus trees in Los Angeles, Orange, and Riverside counties. 
Biocontainment measures have so far prevented it from spreading to commercial orchards in Ventura County and the Central Valley. But growers and researchers know these measures will probably eventually fail and HLB will gut California's citrus industry, which supplies 80% of the nation's fresh citrus and exports to over 16 countries. They are racing to find a prevention or cure before HLB becomes as common in California as it is in Florida.
This requires a highly secure agricultural research facility in which trees bred or genetically engineered for resistance could be grown and exposed to the disease, and in which trees can be deliberately infected to test potential cures. Until now, only one such facility exists in California, at UC Davis, and citrus researchers compete for time and space.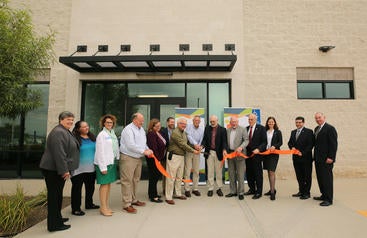 The California Citrus Research Foundation raised $8 million through donations by citrus growers and packers and partnered with UC Riverside to build a biosafety level 3 laboratory two miles off campus on Marlborough Avenue where researchers from UC Riverside and elsewhere can find ways to prevent and cure HLB. Citrus growers and packers, UC Riverside scientists and staff, and government officials attended a ribbon-cutting ceremony at the lab and a luncheon on Sept. 26.
"California is the largest citrus-producing region in the world that has not been ravaged by HLB. For over a decade, growers have worked proactively to protect the state's $3.3 billion citrus industry and the millions of citrus trees in backyards. The construction of this lab and the partnership with UC Riverside is a significant milestone in the fight to save California citrus," said Casey Creamer, president of the non-profit advocacy group, California Citrus Mutual.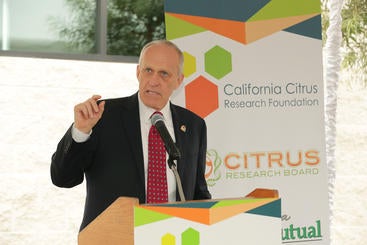 UC Riverside has a long history of collaboration with the citrus industry and is home to the Givaudan Citrus Variety Collection, the Citrus Clonal Protection Program, and the Citrus Experiment Station, which was built in 1907.
"We are proud to continue the tradition of collaboration and partnership with the citrus industry as we work together to find solutions for HLB," said UC Riverside Chancellor Kim Wilcox. "Citrus is an iconic part of California's history, and the biosafety level 3 lab is a natural extension of the mission of UC Riverside to enrich the state's economic, social, cultural, and environmental future."
Four researchers have already been approved to begin work in the lab. The Citrus Research Foundation and UC Riverside will oversee the current projects as well as the selection of future projects.