Providing a college home for students isn't a new function for the 50-acre site on the north side of the UC Riverside campus. It's been home for UCR students throughout the campus's history: the North District project is simply the newest chapter. 
That was the message repeated in remarks at the groundbreaking for the largest-ever building project in UCR's 55-year history. On Friday, Oct. 4, about 200 people gathered under a tent off Linden Street, against a backdrop of bulldozers noisily pushing dirt. 
"This has been home to a lot of people for a long time," UCR Chancellor Kim Wilcox said to the crowd. "We have a sense of responsibility to the past, and to the future." 
In addition to Wilcox and UC President Janet Napolitano, speakers included Andy Plumley and Jacqueline Norman, both UCR staffers with lifelong ties to the university and to the razed Canyon Crest Family Housing community. 
Norman paid homage to the erstwhile housing development, which was populated by World War II-era housing structures intended 70 years ago to be temporary. 
"The tiny houses are gone now; happy ghosts in our collective memory," said Norman, the campus architect. 
"And the 50 acres are once again ready for a new phase of service," Norman continued. "Every building that we construct has the potential to impact thousands of students and their education for the better."
Unlike the sparsely populated Canyon Crest housing, the North District design calls for dense development, ultimately providing 6,500 new beds for UCR students. UCR predicts growth by more than 10,000 students — to 35,000 — by 2035. 
Norman alluded to the importance of not only the buildings, between five to seven stories, that will be constructed, but also to the importance of the "dynamic spaces" that will accompany them. 
"Student residences, recreation fields, parking, academic, and retail, all planned around a framework of pedestrian streets, promenades, and courtyards," Norman said. "The North District will be abundant with opportunity for rich experiences both indoors and out."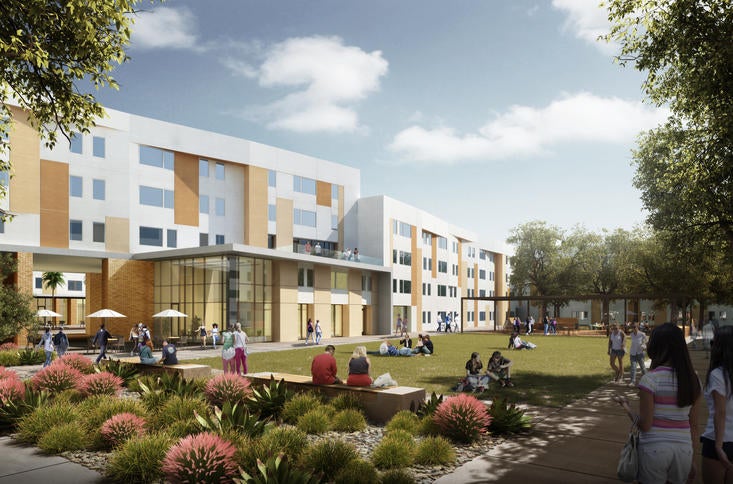 Jamie Wilhelm, an executive vice president with North District builder American Campus Communities, referred to three pillars of the project: affordability, density, and sustainability. The builders aim for a LEED Gold certification, which would herald the project's "green" features.
"We want this to be part of a community," said Wilhelm, whose company is also building a second large-scale UCR project, Dundee Hall and Glasgow Dining Hall, across the street from the North District. "How it connects to the campus is very important." 
A pedestrian corridor will extend from Aberdeen Drive into the North District project, creating a seamless transition from one of the oldest parts of campus to its newest.The Dundee-Glasgow complex is set to open in fall 2020, and the first phase of the North District will open about a year later, delivering an initial 1,500 beds.