UCR commuters have a new resource to help navigate the campus as it sees increased construction and traffic activity.
Transportation Services this fall launched a "My Commute" feature on its website that allows travelers to check for traffic conditions, road closures, parking, and construction activity.
A tool expected to be particularly helpful to commuters is a tab to check space availability at parking lots. The tab lists in real time the number of free spaces and the occupancy percentage at the Big Springs parking structure and parking lots 6, 24, 26, 30, 32 and 50.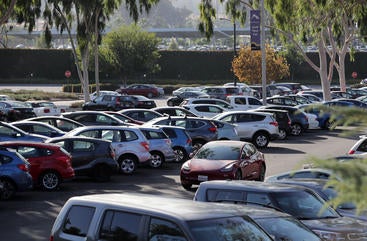 "We update this website daily as we know of campus impacts," said Irma Henderson, director of Transportation and Parking Services. "If people start making it a habit to check it, it may make their commute easier."
The open spaces in the new parking structure that will start construction early next year will also be featured on the site when it opens in 2021, she said.
The site also lists by date campus activities that may impact traffic. For example, it notes the sidewalk is closed near the Barn as part of that renovation project. It also warns of intermittent closures on Linden Street where new student housing is under construction.
The calendar also includes other potential impacts, such as parking lot repairs, campus closures on holidays, or city events such as the Festival of Lights.
The site also provides links to freeway traffic conditions and arrival times for Riverside Transit Agency buses.
Henderson said the department is looking for feedback and other useful features could be added.
The department also uses its Twitter account, @UCRTAPS, to provide parking count updates, as well as to notify drivers when overflow parking is being directed to other lots.