UC Riverside's funding levels relative to other campuses will be a key point in upcoming budget discussions, Chancellor Kim A. Wilcox said during his fall campus update Thursday, Nov. 21.
The campus budget was one of several topics Wilcox touched on during an hour-long address to students, staff, and faculty members in HUB 302.
UC Riverside has a $1 billion operating budget, including auxiliary services not funded by state funds, fees, or tuition. Of that, $575 million is allocated for core expenditures such as teaching and research.
The campus is the lowest funded in the University of California system and has the highest student-to-staff ratio, Wilcox said. Both issues have been raised to UC President Janet Napolitano and the UC Board of Regents, with further conversations planned this year, he added.
But recent talks with Napolitano, as well as the UC Regents' allocation of $25 million for the School of Medicine, give Wilcox hope that UC leadership recognizes the campus' needs, he said.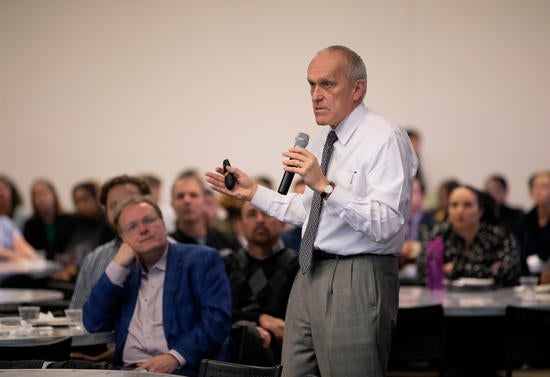 UC Riverside could also see some facility improvements from a statewide bond measure on the March 2020 ballot that would provide state schools and colleges funding for seismic improvement, deferred maintenance, and enrollment growth projects. The $15 billion bond measure would allocate $2 billion to the UC system.
UCR has outlined five top priorities for its share of the funding if the measure passes, Wilcox said. Under the plan, funds would go to a new classroom/lab/studio building, a new School of Business building, a new Bourns College of Engineering building, and improvements to Spieth Hall and Tomás Rivera Library.
During his update, Wilcox also celebrated UCR's continued success in national college rankings, particularly being named No. 1 in social mobility by U.S. News and World Report.
"Best in the country in social mobility means in their estimation we've moved students further ahead than anyone else in the country," he said. "That's amazing."
The campus' improved standings in rankings is also due to its growing research status, Wilcox said, noting UCR now spends $167.8 million on research and development, $77.3 million of which is federally funded. That number has climbed dramatically from previous years.
"That trajectory is a big part of why we've jumped up in those rankings as well," Wilcox said.
Other updates from the meeting included:
•    Land acknowledgement. Wilcox said following discussions with the Chancellor's Native American Advisory Committee the campus will be rolling out a policy acknowledging native people and their lands.
•    Names for North District buildings. An Ad Hoc North District committee is discussing plans to name new student-housing buildings under construction after area indigenous tribes instead of using Scottish names as the campus has done in the past, said Brian Haynes, vice chancellor for Student Affairs.
•    Dismount zones. The campus is considering restrictions for nonmotorized wheeled devices with the designation of dismount zones, said Gerry Bomotti, vice chancellor for Planning, Budget and Administration.
•    Provost search. A consultant has been hired in the search for a new provost with candidates expected to visit the campus in the late winter or early spring quarters, Wilcox said.
A video recording and power point from the meeting are available on the chancellor's website.