Parking relief is coming soon to UC Riverside, but the campus will experience some growing pains first.
Construction will begin in late January or early February on a $30 million, 1,079-space parking structure that will provide four levels of parking for students, staff, faculty, and visitors. The project will include an additional parking area outside the structure, bringing the total to 1,287 spaces.
The yearlong project is being built on the east side of Parking Lot 13 on Big Springs Road. During construction, part of the existing 685-space lot will be closed.
As a result, Transportation and Parking Services is warning that parking availability will be limited.
"Things are going to be tight," said Irma Henderson, TAPS director. "There's no doubt about that."
When construction starts in the winter quarter, the eastern half of the lot will be shut, resulting in the loss of 487 spaces. By summer and fall, some of Lot 13 will open as work is completed. Once the first floor of the parking structure is done it will be opened up to parking, Henderson said.
Some Lot 13 permit holders will be able to continue to park in the lot. Others will be relocated to the Big Springs parking structure, while some will be moved to other lots, depending on availability and waitlists. 
All permit holders will be accommodated, but the move means parking lots that may not have been full in the past will be at capacity with no room for overflow, Henderson said.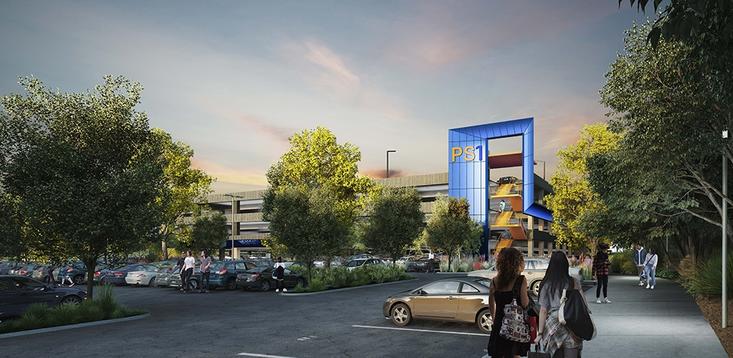 TAPS advises the campus community to consider walking or teleconferencing to meetings instead of driving during the construction period. Leaving the campus for lunch is also not advised as there may not be space upon return.
Alternatives such as biking, walking, public transit, carpooling, or parking at the off-campus Hunter Park Metrolink lot will be promoted.
The department is using the hashtag #parkingiscoming to highlight the future net increase of 800 new spaces when the structure opens.
"Everybody knows we need more parking, but in order to create that, we need to do this," Henderson said.
The new structure will be nestled into the hillside and have two entries, one at ground level and another on the second level. It will include permit dispensers, bicycle storage with a tire inflation station, electric vehicle chargers, security cameras, and a solar-ready roof.
Lot 13 will also see improvements including a redesigned walkway and additional passenger waiting and loading space.
The campus community can stay informed of parking availability and other transportation options by following the TAPS Twitter and Instagram feeds, @UCRTAPS for both, and the My Commute page on its website, which also includes additional details about the project.