UC Riverside has taken an important step toward providing much-needed classroom and student activity space with the start of construction of the Student Success Center.
The three-story, 60,000-square-foot building will feature a mix of classrooms, small- to large-sized lecture halls, multipurpose rooms, student study areas, meeting rooms, and a student lounge. The first floor will include a dining area and the campus' first gender-inclusive multistall restroom.
With a seating capacity of 1,100, the project is expected to make a big dent in the need for more classroom space as campus enrollment and graduation rates continue to climb.
"It's the first expansion in a very long time in net new classroom seats," said Campus Architect Jacqueline Norman.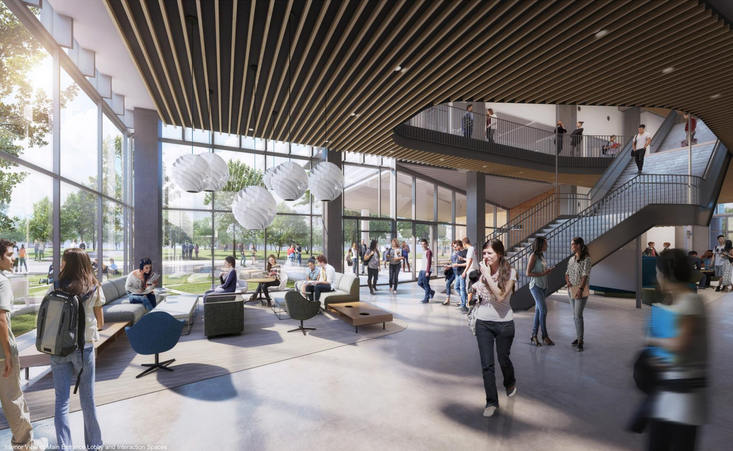 The project is being built on a 0.8-acre lawn area south of the CHASS Interdisciplinary building and east of the Student Services building. Early work began in November.
A working group of students, staff and faculty members helped choose the site due to its accessibility to undergraduate students and proximity to other classrooms, other student support services, and student activities.
With its location near two major corridors, the Arts and Carillon Malls, the Student Success Center is expected to become a major gateway to the campus and serve as a hub of student learning and activity, Norman said.
One of its most unique features is a 400-seat in-the-round lecture hall that will offer a TED Talks-style environment for teaching and allow for larger seating capacity. Last year, 20 faculty members traveled to Oregon State University to experience such a room for themselves and came back enthused.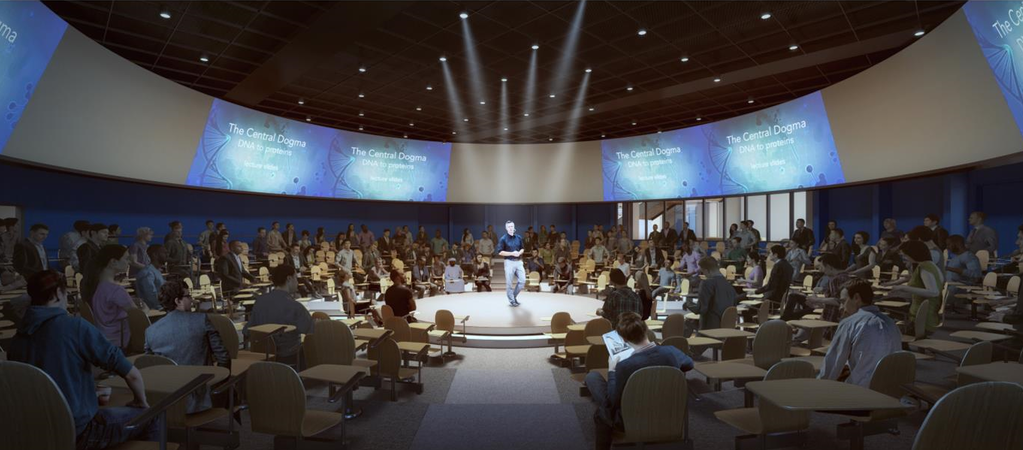 "This is a really exciting classroom, and a great addition to the types of instructional spaces that we already have on campus," said Ken Baerenklau, associate provost and chair of the working group. "It's designed to increase instructor-student and student-student engagement while still achieving the large seating capacity that we need."  
Its central location also means that construction and its impacts will be highly visible to the surrounding area, said Mihai Gavan, project manager with the Office of Planning, Design and Construction.
A 15-foot fencing went up around the lawn area in November and construction trailers will be stationed at the project site. Pedestrians will have partial access to the walkway near the CHASS and Student Services buildings, but the fencing has been extended into a larger portion of the lawn and the pathway to the south.
As part of the site preparation, grass and landscaping, including several trees, are being removed. Some existing trees will remain, while others will be replaced with new landscaping that will accompany the building.
Initial work will consist of preparing the site for construction, including trenching to install utilities. Major construction will follow early next year and continue through summer 2021 when the project is expected to be completed.
Construction material and equipment will be brought in through the path from the south between the Barn and Sproul Hall. Deliveries will be limited as much as possible to early morning hours. For pedestrian security, the construction equipment will be accompanied by flagmen, Gavan said.
Some portions of the construction fencing will feature sound-absorbing material to help reduce noise to surrounding buildings.
Planning, Design and Construction will also list construction activity a week in advance on its website and hold biweekly meetings with representatives of neighboring buildings to discuss construction impacts, Gavan said.