The University of California held its inaugural Hazing Prevention Conference at UC Riverside Jan. 29-30, providing a forum for about 150 staff members and leaders to discuss ways to reduce the practice.
In his welcome remarks, Chancellor Kim A. Wilcox noted university leaders are expected to be great stewards of their budgets and relationships with donors. The same approach must be taken in protecting students from hazing, he said.
"Why can't we steward and take care of more effectively our most precious commodity — the students of our university," he said.
The September 2018 death of Tyler Hilliard, a 20-year-old UCR student, was a turning point for the campus on the issue of hazing, said Brian Haynes, vice chancellor of Student Affairs. The passing a few months later of UC Irvine student Noah Domingo raised the need for a larger UC-wide conversation, he said.
Under Haynes' leadership, UCR organized the conference in order for UC campuses to collaborate on the best practices to reduce hazing. He said students and staff are doing great work at their respective campuses, but the issue requires a comprehensive and collaborative approach.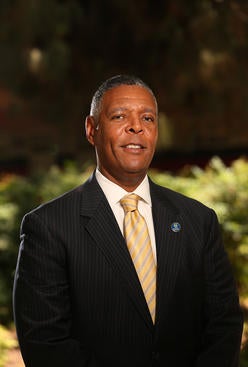 "There are no words that can bring comfort to grieving parents after the loss of their child," Haynes said. "This will no longer be the norm on our campus nor any UC campus. We are taking the necessary steps to protect our students and enable them to join a student organization or team that thrives on respect, integrity, and collaboration for the greater good."
The conference began with a keynote speech by Lianne Kowiak, a member of the Anti-Hazing Coalition, who described the impact of hazing in the most personal terms, as a mother who lost her 19-year-old son Harrison Kowiak in 2008.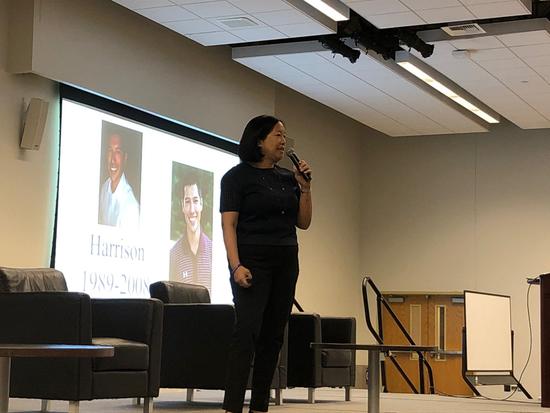 "As a parent, when we send a child to college, we don't expect them to come home in a coffin," she said. "That's our worst nightmare."
Kowiak took the audience through her family's journey, describing how excited Harrison was to go to Lenoire-Rhyne University in Hickory, North Carolina, on a golf scholarship. She later recounted the night when she got a phone call saying her son was in the emergency room, and she and her husband needed to fly up immediately.
Her son died the next day due to severe brain injuries suffered during a hazing ritual where he and another pledge were told to cross a dark field at night, she said. They were tackled several times by football players much bigger than him until he collapsed and could no longer get up, Kowiak said.
After her son's death, Kowiak became a hazing prevention advocate, speaking out for stronger laws and working with fraternities and sororities to raise awareness of the dangers of hazing. 
"My mission is to ensure this doesn't happen to another family," she said.
The conference included panels featuring students active in Greek organizations, senior administrators from UC campuses, and researchers from StopHazing Consulting, which has developed data-driven strategies for hazing prevention and promoting ethical leadership.
The conference drew student affairs professionals and staff from a variety of disciplines and departments, including police, athletics, and the UC Office of the President.
"It was amazing to see so many academic and student affairs professionals from across the UC system participate in this unique conference," Haynes said. "Their commitment marks the first step in preventing and eliminating hazing across our campuses."
To learn more about hazing prevention, click here.