When the pediatrics clinic at UCR Health, the clinical arm of the UCR School of Medicine, began receiving a high volume of calls because of the novel coronavirus, Dr. Adwoa Osei reached out to a few medical students for help.
The students swiftly began modifying the Barton Schmitt COVID-19 protocol, a 10-page document densely packed with important COVID-19 information.
"We pulled out key pieces of information and reorganized the formatting to create a protocol that was quick and easy to follow," said Morcel Hamidy, a second-year medical student, who was joined in the effort by Tin Dinh, Amanpreet Bilg, and Ryan Chow, all second-year medical students.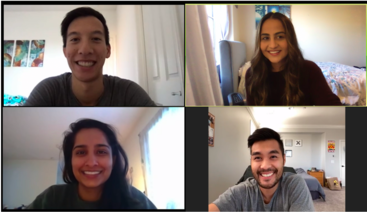 The students then organized the main patient symptoms into three categories: emergency, high alert, and medium alert.
"If a child shows severe respiratory distress, that would be considered an emergency and the triager would be advised to inform the family to call 911 or visit the nearest emergency department," Hamidy said. "If a child shows milder symptoms and was perhaps in close contact with person exposed to COVID-19, then the triager would be advised to reach out to the patient's primary care provider regarding the next steps and follow up with the patient's family within an hour regarding a plan of action."
The protocol Hamidy and her colleagues developed is now in effect at UCR Health and other pediatric clinics.
"As medical students, we appreciate charts and graphs that outline important information in an easily digestible format," Hamidy said. "It was our goal to reorganize the large amount of information in the Barton Schmitt COVID-19 protocol into simple charts with columns for symptoms and actions to take."
Dr. Osei, an assistant professor at the clinic, greatly appreciated the assistance provided by Hamidy and her colleagues.
"The students did an excellent job of modifying the protocol by color coding triaging levels," she said. "It's easy to use by all levels of health care personnel, and the information is organized for quick and easy interpretation. It's concise, timely, and needed."
"We in health care are all in this together in these uncertain times, taking on many COVID-19-related challenges each day," Hamidy said. "As medical students, we are happy to help faculty whenever the need arises."