HIV expert Brandon Brown, an associate professor in the Department of Social Medicine, Population and Public Health in the UC Riverside School of Medicine, and colleagues conducted an anonymous, internet-based survey in Palm Springs, California, on predominantly white, gay men living with HIV and found that this population experiences frustration, boredom, sleep disruptions, and not getting enough exercise during the coronavirus pandemic. 
"High levels of social isolation, anxiety and depression during this pandemic may differentiate the HIV and aging population from others, since they have already endured significant trauma, isolation, and post-traumatic stress disorder due to losses from AIDS," Brown said.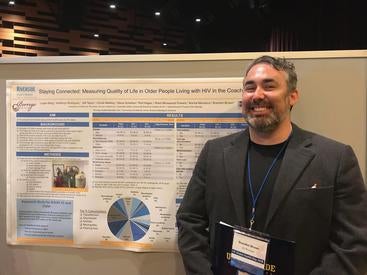 Importantly, the study, published in Aids and Behavior, indicates that the pandemic has caused people aging with HIV to miss taking their HIV medications, with participants describing the pandemic as a disorienting event. Missing doses of HIV medicines can reduce their effectiveness over time, increase the possibility of developing drug resistance, and weaken the immune system.
The survey, which began in April this year, aimed to assess the impact of COVID-19 and mitigation efforts on daily needs, mental and physical health needs, and social isolation. While it was open to all people above age 50 in the Coachella Valley and living with HIV, participants were mostly gay men due to the migration of this population to the valley from other locations across the United States. Thirty-two of the 35 participants were white, closely matching the demographics of people living with HIV in the Palm Springs area. 
Nineteen participants reported experiencing anxiety; eight participants reported feeling depressed. Twenty-two participants reported that COVID-19 impacted their lives "extremely" or "very much" and 21 were fearful of getting COVID-19 themselves. A few reported increases in alcohol use, marijuana use, and increases in other substance use during the pandemic.
"Participants reported feeling socially isolated and anxious during shelter-in-place orders," Brown said. "Some also had difficulty paying for basic needs due to financial challenges resulting from COVID. For this population, these needs may be medications, doctor's visits, or nutritious foods." 
According to Brown, the study illustrates the compounded impact of the pandemic on people aging with HIV infection who will likely have to shelter-in-place at home long after the rest of the population is able to break physical isolation.
"People living with HIV are at higher risk of getting additional infections like COVID-19 due to a weakened immune system," Brown said. "COVID-19 further isolates this population that was already isolated prior to the pandemic. Our initial findings suggest COVID-19 has significant negative impacts on mental health and healthy behaviors as well as negative implications for financial well-being."
Next, Brown and his colleagues plan to provide data in real time to local service-based groups in the Coachella Valley, so that organizations can respond to the emergent needs of older adults living with HIV. 
Brown was joined in the study by colleagues at the University of Southern California Keck School of Medicine and the HIV + Aging Research Project-Palm Springs.
The short research paper is titled, "Leaning on Community-Based Participatory Research to Respond During COVID-19."