The Barn has gone through several transformations since its original incarnation as a horse stable in 1917.
Its latest dramatic change — a $30 million renovation and expansion — is now complete after almost two years of construction.
Featuring 18,500 square-feet of dining and cooking space, it's about three times the size of the original structure and has a completely new look. 
A grand opening celebration had been planned for late April but has been delayed due to the COVID-19 pandemic. 
Dining Services will follow all campus, county, and state safety protocols in deciding when and how to open, said Marcus Van Vleet, director of the Barn and retail dining for Housing, Dining and Hospitality Services.
"We know that people are going to love it when it opens," he said. 
Until then, Dining Services staff is looking at creative ways to share elements of the new Barn with the campus including offering take-out service. For example, new deli menu items planned for the Barn are now available at Savor at the Market at Glen Mor. Other ideas being explored include offering a Zoom tour of the new facility.
The building is one of the oldest on campus and was among its first eateries. Off and on, starting in the late 1960s, the Barn also served as a concert venue that drew acts like Van Morrison, No Doubt, and Rage Against the Machine.
The Barn's original structure has now been expanded into a complex made up of three buildings, an outdoor stage, and two large patio areas. The new facility provides for a more varied campus dining experience that will also eventually include the return of live music, Van Vleet said.
"The whole goal is to create a fun, relaxing environment for faculty, staff, and students to come hang out," he said.
The 8,600-square-foot main dining hall expands on the original building, retaining some of the trusses and wood beams, including a few that still bear char marks from a 1970 fire. The design reflects a modern reinterpretation of the Barn, planners said.
"It's very much a refined rustic," said Drew Hecht, director of project management for the Office of Planning, Design and Construction.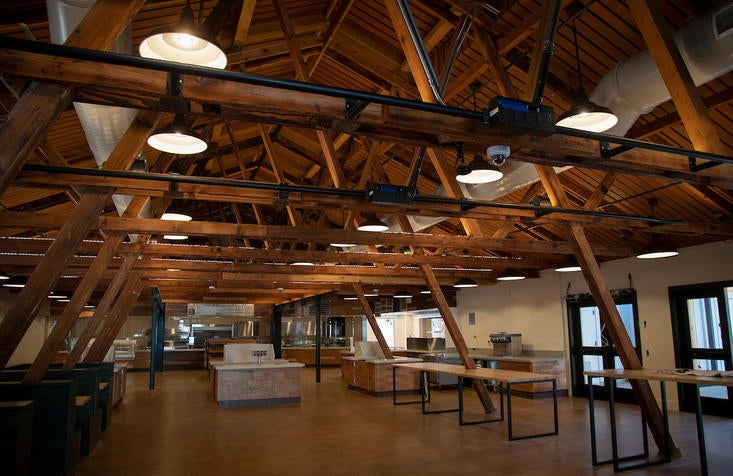 The main restaurant will feature four stations offering different food options and seating at tables and booths for up to 100 patrons.
 "Our rallying cry for dining is delicious, nutritious, and sustainable," Van Vleet said. "We want this to be a repeatable dining experience that staff, faculty, and students will want to come back for."
The main restaurant will keep the name the Barn, while the new faculty/staff lounge next to it will be called the Barn Stable.
The building features a glass outer wall with lattice slats that opens up the room with natural light, a change from the darkened atmosphere of the old Barn. The opposite glass wall doubles as the backdrop for an outdoor stage that will serve as the Barn's new concert venue.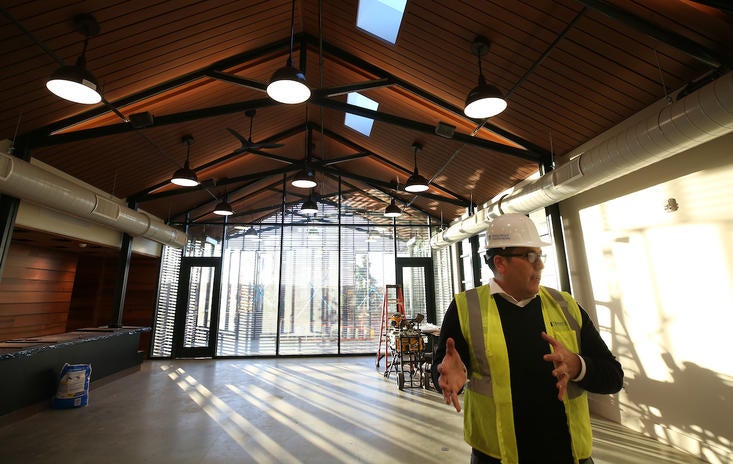 The Barn Stable has a walk-up window facing the outdoor patio where diners can order beer and wine. Inside, the 4,900-square-foot lounge has a full bar with countertops made from repurposed wood from a walnut tree that was on the site. Beer, wine, spirits, and some signature UCR drinks will be available for order at the inside bar.
The Barn Stable dining area, which will only be open to staff and faculty members and their guests, can seat up to 79 patrons at high and low-top tables as well as lounge seats. The Stable will offer buffet restaurant service with a host seating diners and servers taking orders. 
The Barn Stable will use a loyalty program allowing staff and faculty members to register to earn points and win free meals.
The stage patio area holds up to 500 audience members, providing an intimate open-air setting to enjoy live music. The campus hopes to book a variety of genres and acts, from local and campus talent to up-and-coming national artists. 
A prominent new feature of the Barn is a 27-foot ticket tower with a glowing lantern-like design at the outside east entrance where patrons can purchase tickets for shows, which will also be sold online.
The last element of the complex is the Barn Theater, which has been rebuilt as a multi-use classroom performing and rehearsal space for music and theater students from the College of Humanities and Social Sciences, such as the Taiko drum group.
"Our goal with the Barn is to have a nod to the past but excitement for the future and what is to come," Van Vleet said.