The UCR Botanic Gardens reopened to the public Monday after more than three months of closure due to the coronavirus pandemic.
The 40-acre living plant museum, which has more than 3,500 plant species, is the first major area of the campus to reopen.
The Botanic Gardens is following state guidelines allowing for the reopening of parks and trails, taking a phased approach with new safety protocols, said director Jodie Holt.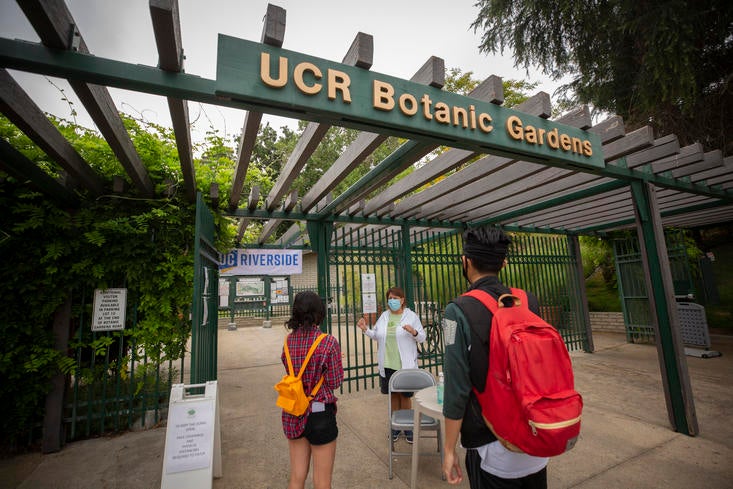 The gardens will be open from 9 a.m.-12 p.m., Monday through Friday. Before the shutdown, it was open daily, except for holidays, from 8 a.m.-5 p.m. The reduced hours are due to limited staffing and additional duties required to keep the gardens safe for employees, volunteers, and visitors, Holt said.
The gatehouse, which was unattended before, will now have a staff member keeping track of the number of visitors. No more than 450 people will be allowed at one time, a number arrived at based on the amount of walkable space and proper social distancing, Holt said.
Gardens staff members will also clean and disinfect the restroom near the gatehouse several times during open hours on top of the daily cleaning by Facilities Services.
Visitors will be asked to abide by new social distancing rules. Groups must be no larger than 10 people and must keep at least six feet away from others not in their group. They are asked to be mindful of those rules when approaching others on trails or pathways, especially in smaller garden areas.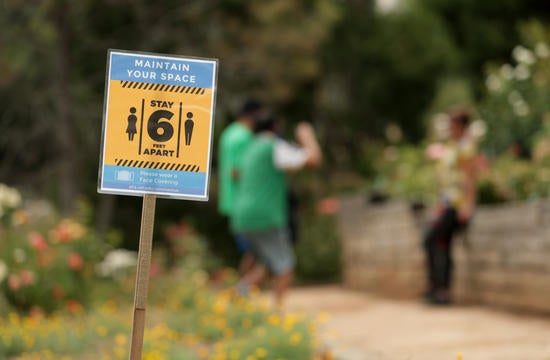 Face coverings over the mouth and nose will be required for those age 2 and up. They may be taken off when people are within their own group but must be worn when coming in close contact with other visitors.
New signs have been posted at the entrance and other areas instructing visitors of the rules.
Some physical changes have also been made to increase safety. Some pathways and trails have been widened and smoothed out in narrow areas to allow for easier passage. The upper restroom and drinking fountains will be closed, although touchless bottle hydration stations will still be available.
The closure gave the gardens staff members time to put in place some new features. One is a scannable bar code at the entrance that allows visitors to make a donation electronically with their phones. Although admission is free, a suggested donation of $5 is welcomed. Cash and checks were previously accepted in a drop box at the gatehouse.
The curator and volunteers have also created an interactive geographic information system guide to the gardens, which has replaced printed brochures. Separate GIS story-map guides to specific gardens, with detailed information about plant species, have also been rolled out. One is available for the North American desert garden, another explores plant ecology in the gardens, and story maps for two more gardens are being created.
Getting the gardens ready for reopening was not a simple task, Holt said. In addition to the changes that were made, they had to take care of maintenance needs such as pulling weeds and gopher control. Repairs needed to be made from recent rainfall and runoff that created some erosion. New security measures were also installed following some burglaries where potted plants were stolen in April.
"In the last month, the place has been transformed," Holt said. "The gardens look really good."
Throughout the closure, Holt said she heard from many regular visitors of the gardens via social media and email expressing their appreciation and asking about the state of the gardens. She described meeting visitors, many with different connections to the campus, as one of her favorite parts of the job.
"Everybody has a story about why they love the gardens and why they came back," she said.
Holt noted many studies have shown the health benefits of being out in nature and said the gardens offer a respite many people could use — even more so now.
"You can walk the same trail every day and see something different, see a bobcat, hear all different kinds of birds," she said. "It's really an extraordinary place."