The wait is over. The Barn will reopen for dining July 13 for the first time in two years following a $30 million renovation and expansion.
A grand opening had been planned for April but was delayed due to the coronavirus pandemic. 
Dining Services has added additional cleaning and social distancing measures to keep visitors and employees safe in accordance with state and local guidelines. For now, the Barn will only offer take-out and dining in its outdoor patio areas through the summer.
The expanded complex includes plenty of courtyard space with seating that can hold up to 375 people.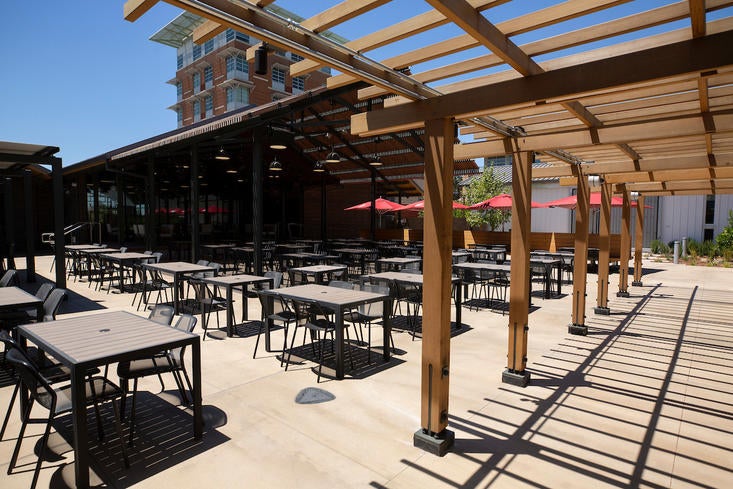 However, the seating capacity will be reduced with tables separated by at least six feet. Plexiglass has been installed at the food stations, cash registers, and booths as an added precaution once dine-in service is allowed. High-touch areas will be cleaned hourly and each table will include sanitizer and hand wipes for patrons.
The Barn staff members, who have been training in the new kitchen and dining hall over the last few weeks, are excited to open to the campus and the community at large, said Marcus Van Vleet, director of the Barn and retail dining for Housing, Dining and Hospitality Services.
He expects diners familiar with the old Barn will be surprised by the facility's new look and more varied food offerings. While it includes nods to the Barn's iconic past with its décor and historic photos adorning the walls, it also offers a whole new dining experience to the campus, he said.
"They're going to be blown away by what they see," Van Vleet said.
Menu planning began more than a year ago when the cooking staff was invited to brainstorm recipe ideas and submit dishes for consideration. A series of food tasting sessions were held in which Dining Services managers sampled dishes and chose their favorites.
"Our entire staff has a big hand in the food we're serving," said Executive Chef Lanette Dickerson, adding she is thrilled with the spacious kitchen space and modern cooking equipment in the new facility.
A small sample of menu items includes grilled tri-trip with cilantro lime chimichurri, smoked brisket with house barbecue sauce, and shrimp and andouille sausage etouffee. Vegan options include a vegan gumbo, root vegetables osso buco, and plenty of sides such as collard greens.
"Our community is going to love our barbecue," Dickerson said. "I think it's an item that's really going to stand out."
Diners can order their food from four different dining platforms in the 8,600-square-foot main dining hall:
The Deli counter, serving about six varieties of sandwiches a day.
The Salads counter, offering made-to-order entrée-size servings.
The Hot Table station, offering a rotating menu of rotisserie and smoked meats and plant-based entrees along with side dishes. The menu will change daily on a 10-day cycle. 
The Grill station, serving made-to-order burgers, chicken sandwiches, and other specialty sandwiches.
Initially, only the Hot Table and Grill stations will be open as the Barn takes a phased approach to its opening, Van Vleet said.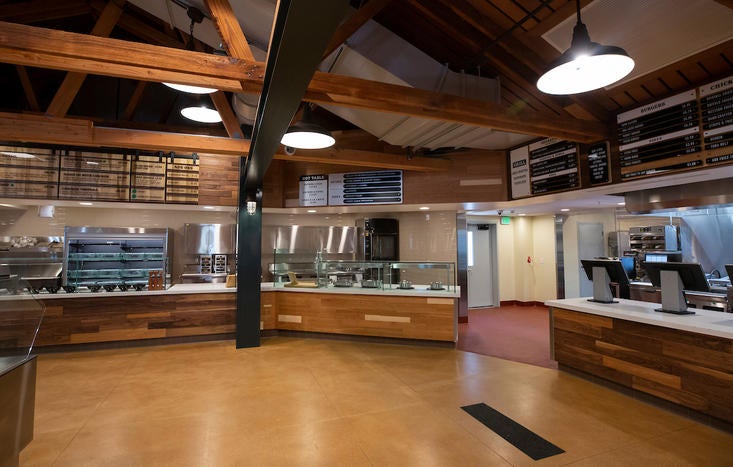 The aisle racks will ultimately include ready-made sandwiches and salads, snacks like yogurt and fruit, and retro-style candies. Hand sanitizer and disinfectant wipes will also be available for sale at a discount to UCR staff and faculty members.
While the main restaurant is open to all diners, the expanded facility includes a new 4,900-square-foot faculty/staff lounge called the Stable featuring a full bar and sit-down restaurant that seats up to 79 patrons. It includes its own prep kitchen although most dishes will be prepared in the main Barn kitchen.
The menu will be the same as the Hot Table station in the Barn but will be available as an all-you-care-to-eat option. When it opens, the Stable will be by reservation only for staff and faculty members who may bring guests.
Originally intended to open to coincide with the Barn, the Stable will remain closed for the time being following the latest public health guidance on restaurants from state officials.
The Patio Bar, which features a walk-up window to the Stable and 12 taps, will be open serving beer and wine to those 21-and-over. On tap are at least two signature UCR citrus-infused beers made at Ironfire Brewing Company in Temecula with fresh citrus picked from the Givadaun Citrus Variety Collection at UCR.
Initially, the Barn restaurant and Patio Bar will be open Monday through Friday from 11 a.m.-6 p.m. The hours could change based on foot traffic. 
"This is your Barn," Van Vleet said. "If the demand is there, we'll open later. We want to be here for the campus and the community."
The Barn will be the only dining establishment open on campus during the summer. The Market at Glen Mor, which had been the only place to dine since the campus closure in mid-March, will close Friday.
Visit the Barn website for more information on its menu and hours.