Dr. Deborah Deas, vice chancellor for health sciences and dean of UCR's School of Medicine, is one of the subjects honored as a Riverside influencer on a new series of murals.
Deas was nominated for the recognition by Arts for IE, a regional arts collaborative made up of the Riverside Arts Council, Arts Connection, and Music Changing Lives.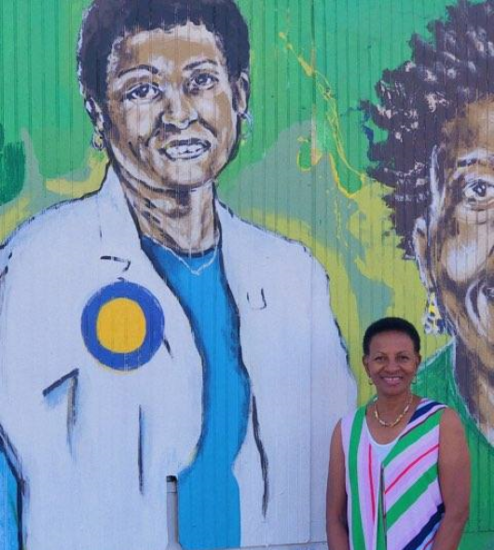 She is among five people whose likeness was painted on murals in downtown Riverside on Saturday, Aug. 8. The murals are part of a grassroots effort to beautify walls on downtown streets with messages of hope and peace. The murals can be viewed on Instagram under the hashtag #spreadpaintnothate.
Deas was selected due to her advocacy for improving access to health care in the Inland Empire, particularly to underserved and underrepresented communities, organizers said. She's also been visible in the community sharing the school's mission to create a diverse workforce and encourage UCR's future physicians to stay in the area and serve their community.
"I was touched and honored to be asked to represent the mission of the UCR School of Medicine, and to be featured alongside such notable Riverside community leaders," Deas said. "I am thrilled to be part of this unifying and positive community project."
Ninfa Delgado `95, chair of the Chancellor's Advisory Committee for Chicano/Latino Affairs, is also featured on the mural alongside Gabriel Maldonado, a School of Medicine community partner; Thomas Pham; and Monica Hunter.
The mural designs were created by artists Ronald Del Cid, Cosme Cordova, Darren Villegas, Lecila Victorin, Mariah Green, and Jesus Castaneda, with community volunteers helping to paint them.