The UC Riverside Career Center is partnering with the University Innovation Alliance, other campus partners, employers, and community organizations in creating an internship program offering students real-world job skills before they graduate.
In a pilot program this summer, six UCR students from multiple disciplines are working together on a U.S. Environmental Protection Agency, or EPA, project aimed at reducing food waste in the community.
The Bridging the Gap from Education to Employment program was developed to meet the needs of students seeking to gain experience before they graduate but unable to take unpaid internships due to financial or other hardships. The internships are specifically designed to offer career-related experiences critical to students' post-graduation success, particularly for those from low-income and first-generation backgrounds.
Sean Gil, the Career Center director, described it as a unique collaboration between campus partners offering new opportunities for students.
"We're creating something that's more accessible for students carrying a full-time academic load and working a part-time job to stay afloat," he said.
The University Innovation Alliance received a $2.4 million grant from the national nonprofit Strada Education Network as part of a three-year program to develop innovative solutions to student's career needs.
The Career Center worked with faculty members, career service professionals, employers, and students to create a student-centered work readiness program. The process took more than a year and included interviews and focus groups with over 170 students who described the type of work experience they sought and the obstacles they faced.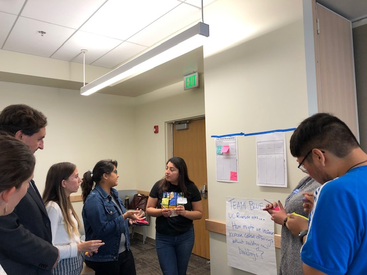 Many students were unaware of opportunities or struggled to find time for career-related experience due to competing academic and financial demands, said Elizabeth Montgomery, associate director of student and college engagement for the center and the project co-lead.
"They know the importance of getting career-related experience while they're in college, but it seems challenging, and they're uncertain of how to do it," she said. "They may not have the time."
Based on needs and goals they heard from UC undergraduate students, the team developed a program to offer part-time, project-based group internships through which students can gain marketable job skills, find out more about their career interests, and earn confidence in their abilities.
The Career Center Project Lead Charlie Rodnuson collaborated with the EPA, a long-time UCR partner, to co-create an experience that reflects the agency's real-world projects.  
The EPA internships involve gathering data on food waste issues in which students work with campus and EPA mentors. They also take part in EPA and UCR Career Center workshops and confer with each other regularly. At the end of the internship, they will give a presentation to the EPA and UCR's Office of Sustainability on their findings. 
The Career Center hired the students who are working 10 hours a week over a six-week period through Sept. 1, earning $13 an hour. While the program was originally intended to take place in person, the Career Center and the EPA adapted to COVID-19 by making the program a remote one, with regular Zoom sessions and one-on-one meetings with mentors. The internships were open to any major with one student from each of the campus' six colleges or schools.
"I like how collaborative and engaging it's been so far," said Marissa Howdershelt, a fourth-year public policy major who is one of the interns.
Howdershelt never had an internship before but applied after seeing a Career Center posting because the work involved environmental policy, a subject they were interested in. The pay, the hours, and the chance to work on campus also made it appealing, they said.
Interns have learned from each other and their mentors as part of the project while also gaining valuable job skills that has increased their self-confidence, Howdershelt said.
"It's definitely helped," Howdershelt said. "Especially if you're a first-generation student you feel really scared to reach out to folks. It's just not something you're used to. A lot of us struggle with asking for help, asking for guidance."
Gil said based on the success of the pilot program it could be expanded to more employers next year, increasing the number of student internships offered.
The UCR program may also be replicated by other members of the University Innovation Alliance, which include Arizona State University, Georgia State University, Iowa State University, Michigan State University, Oregon State University, Purdue University, The Ohio State University, University of Central Florida, University of Kansas, and University of Texas at Austin. 
Alexandra Lozanoff, regional director for the alliance, said the universities came together so they can collaborate on what's working, sharing both their successes and failures to create better career-readiness programs for students.