The Barn reopened to customers Monday, Nov. 2, following a temporary closure, a cautionary measure taken after an employee tested positive for the coronavirus last month.
During the two-week shutdown, the employee and other staff members who had been in contact with the individual remained in quarantine. Staff members immediately conducted an electrostatic spray cleaning and also hired a third-party cleaning specialist to perform a full disinfection in which all soft and hard surfaces were treated with a disinfecting chemical approved and certified by the U.S. Environmental Protection Agency to kill the virus.
No additional cases have been reported at the restaurant and no guests were determined to be at risk, said Marcus Van Vleet, director of the Barn and Retail Dining.
After learning of the case, Dining Services worked with UCR Health to quickly identify those who had had been in close contact with the individual.
The decision to close the restaurant was made primarily due to staffing concerns, said Robin Hungerford, senior director of UCR Housing, Dining & Hospitality Services. The restaurant has a staff of 10 employees all who were advised to quarantine for the two-week period.
"Given that the team there is so small, the impact of so many to quarantine out of the utmost caution caused us to close down the Barn," Hungerford said.
The case is an example of the protocols in place to ensure the facility is safe for employees and guests, she said. The fact that no one else tested positive for the coronavirus is a sign of that success, Hungerford said.
"I'm very confident that our restaurants are some of the safest in Riverside county," she said.
Since reopening in June, the Barn has had outdoor dining in its large front and back patios. Tables are spaced at least 6 feet apart with a maximum of four diners, disinfected after every use, and sanitized nightly. Face coverings are required for staff and guests whenever they're not eating or drinking.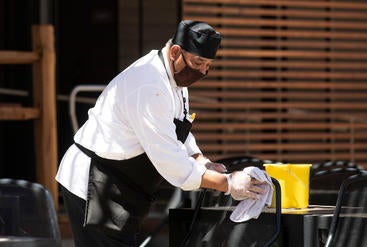 Plexiglass barriers, sanitation stations, and social distancing markers are placed throughout the restaurant and physical distancing is enforced. The entry and exit points are contactless as is the payment system, which does not accept cash. 
During the temporarily closure, new self-service digital ordering kiosks – which had been part of the original design — were installed at the Grill food station. Food can also be ordered in advance on a mobile app.
A longtime campus gathering spot, the Barn has steadily attracted a mix of students, faculty, and staff members as well as nostalgic alumni since it reopened after a two-year renovation and expansion, Van Vleet said. 
"We're kind of hitting a stride now with our modified operations and a regular flow of customers," he said.
The Barn has remained a link to the campus for many during the last several months of remote work and study.
"We're grateful to be a tactile part of campus that people can still experience and hold on to," said Ben Eisenstein, strategic marketing and communications manager for Dining, Housing and Hospitality Services.
The Barn is open Monday through Friday, 11:30 a.m.- 7 p.m.