UC Riverside medical students will soon have expanded space to learn patient and clinical skills and procedures.
A new clinical skills and simulation suite is beginning to take shape in the bottom floor of the Orbach Science Library. The School of Medicine project features 16 mock exam rooms, an emergency room, an intensive care unit, operating room, OB-GYN simulation room, conference rooms, and classroom space. 
A section of the basement was demolished down to the bare foundation and is being completely rebuilt with new walls, floors, lighting, audio/video system, and mechanical systems, said Fernando Canon, a project manager with the Office of Planning, Design, and Construction.
Construction began in April and is expected to be completed by March 2021, he said.
The 9,000-square-foot suite is a major expansion for the School of Medicine, which currently has a 1,300-square-foot space with 10 exam rooms and two simulation rooms, said Christopher Miller, director of operations for the UCR SOM Center for Medical Simulation and Research, or CSPC.
"When the CSPC is built out it will give us the largest clinical simulation space in the UC system," he said.
The new facility can accommodate around 60 students at a time. The renovation comes as the use of simulation labs has grown tremendously in medical education, Miller said.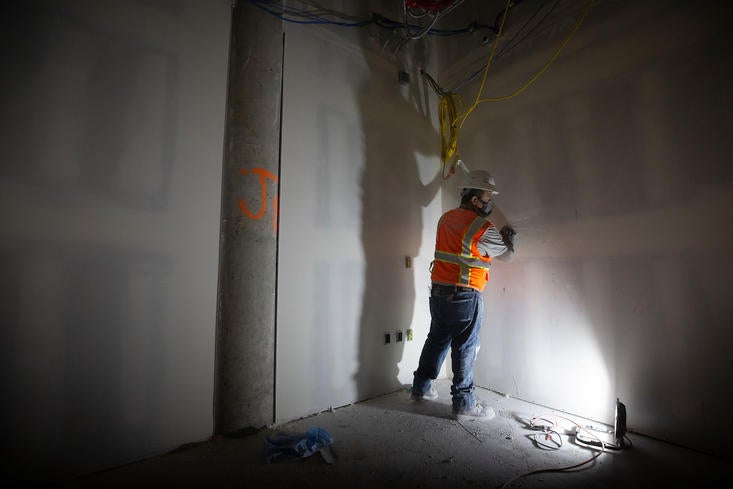 The exam rooms will be used by first- and second-year students to learn standardized patient care by interviewing actor patients and diagnose their symptoms. The simulation rooms provide clinical training where students work with sophisticated mannequin-based patient simulators.
"It provides an opportunity to practice high-risk scenarios with no risk whatsoever," Miller said.
Several of the clinical exam rooms can also be converted into virtual reality suites where students wearing goggles can practice while instructors can see what they're doing on LED screens. 
Other improvements include the ability to collapse four rooms into two larger areas, as well as better integration of the exam and simulation spaces, Miller said.
"We can do a whole day of simulations that I call 'soup to nuts,'" he said.
Students will take part in the patient care process beginning with initial intake in the emergency room, writing up surgery orders, following them through surgery to the ICU, and then monitoring them in recovery, Miller said.
Once the new clinical skills and simulation suite is complete, the existing space in the School of Medicine Education Building will be renovated for administrative, instructional, and study space.