UC Riverside has created a new team of Facilities Services employees specializing in cleaning campus areas that have potentially been exposed to the virus that causes COVID-19.
The team, made up of 15 custodial and housekeeping employees who volunteered for the task, attended training sessions starting in January, completing the last one in early March.
Since the pandemic began last year, department employees have undergone retraining on enhanced cleaning and disinfecting techniques, as well as use of personal protective equipment or PPE. However, the campus has brought in outside contractors to clean spaces where there has been possible COVID-19 contamination.
Hassan Ghamlouch, director of Environmental and Resource Services for Facilities Services, said the department decided to create its own team for such cases. Doing so allows for a quicker campus response while providing employees with increased expertise, he said.
"We can bring the work in-house, we can enhance the work we're doing, and we can provide the right safety mechanisms, including PPE, in doing this work," he said.
The department worked with Environmental Health and Safety in training the cleaning team to safely decontaminate areas following Centers for Disease Control and Prevention guidelines.
The work requires extra layers of personal protective equipment. Team members must wear face coverings, goggles, plastic coveralls, shoe-cover booties, and two layers of gloves. 
The decontamination involves the use of hand-held electrostatic sprayers, which are filled with a plant-based disinfectant.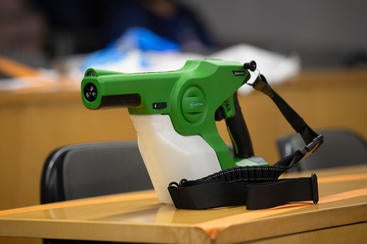 During a March training session, instructors went over each step of the process, beginning with how to put the equipment on safely. Team members then practiced using the sprayers, using water for the session, and instructors described how to treat infected spots first and then move out to safer areas. When finished, coveralls, booties, and gloves are disposed of as biohazard in plastic bags, while the goggles are cleaned for future use.
In creating the team, the department asked for volunteers instead of assigning personnel. Aaron Uresti, assistant director of Custodial and Housekeeping Services in Facilities Services, thanked them at the training session.
"This is very important work we're conducting on campus," Uresti told them. "Without you, we can't do it."
The team will be called to step in when needed in addition to their regular duties. Areas can reopen 24 hours after decontamination.
Tanya Morales, a senior custodian who joined the team, said she saw learning new skills as part of the job.
"This is what we're living now with the pandemic and COVID," she said. 
Mellissa Gill, a senior custodian, echoed that sentiment, saying, "It's just the nature of what we do."
But she also cited a personal reason for joining the team, noting her daughter is a UCR student.
"My daughter goes here, and I would like to help to make things safer, so she can get back to campus," she said.