The UC Riverside Black Faculty and Staff Association will wrap up its "To Boldly Go" speaker series on Wednesday, capping off a quarterly program aimed at highlighting Black voices in higher education.
The association launched the series last fall following the Black Lives Matter movement's efforts to highlight racism and racial inequities in America. 
"After the events nationally the past year, BFASA felt it was important to amplify Black voices wherever possible, and higher education seemed like an ideal place to add to the discussion," said Dennis McIver, a University Honors counselor who is immediate past chair of the association and proposed the idea. He is also the current Staff Assembly president.
The series took its name from the "Star Trek" television and movie series in recognition of the barriers that Black leaders have had to overcome.
Beginning in fall 2020, the group has invited a high-level Black administrator each quarter to reflect on the experience of being Black in higher education.
The first speaker was UC Davis Chancellor Gary May, followed by UC Provost and Executive Vice President for Academic Affairs Michael Brown. Both provided valuable insights, McIver said.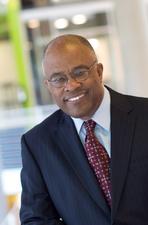 In his speech, May mentioned how race is present even in science and technology, noting hand dispensers don't always identify dark skin.
Brown opened his speech by reciting a poem by Langston Hughes titled "Mother to Son," which speaks to resilience in the face of struggle.
The final speaker of the year will be Kurt Schmoke, president of the University of Baltimore and former Baltimore mayor, on Wednesday at 2 p.m.
The videos are archived and available for viewing through the UC Learning Center.
The association plans to bring the series back in the fall, McIver said.