An interdisciplinary group of UC Riverside professors are calling for investigation into how risk factors including air pollution exposure, working conditions, race, and socioeconomic status interacted to increase locals' likelihood of Covid-19 exposure over the past year. 
"We wrote this commentary to call attention to the particular vulnerabilities in the Inland Empire that have been exacerbated during the pandemic. Members of environmental justice communities experiencing racialized poverty, classified as essential workers and thus not able to shelter in place at home, and living in a region with some of the worst air quality in the country, have borne the brunt of it," said Jade Sasser, an associate professor of gender & sexuality studies and lead author. "We wanted to make an intervention by raising awareness of the inequities right here in our own communities."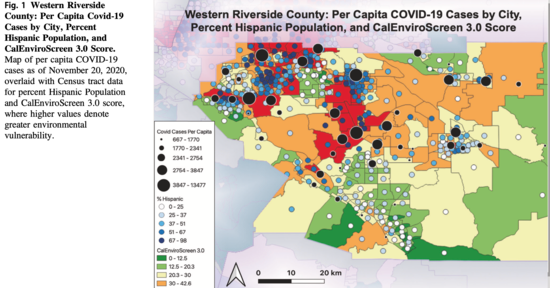 Covid-19 has hit many Black and Latino communities especially hard, but few interventions target the overlapping forms of inequality that make these communities more vulnerable in the first place. The authors call for a regulatory infrastructure that maintains safety protocols in workplaces that disproportionately expose communities of color and the poor to highly transmissible diseases like Covid-19. 
They also recommend environmental health scientists characterize the exposome in homes and workplaces of the most severely affected populations during the Covid-19 crisis, such as essential workers, and build databases of exposure data at the individual level that can be mined for predictive and mitigation purposes. 
"We now have the technology and connectivity to build these databases, which helps mitigate real-time exposure for people who may not be aware of their day-to-day air pollution exposure risks," said Sunni Ivey, an assistant professor of chemical and environmental engineering whose work focuses on modeling air quality.
One area in particular need of attention is the link between air quality and susceptibility to Covid-19. Using data from California OEHHA CalEnviroScreen database in the Inland Empire region of southern California, which consists of Riverside and San Bernardino Counties, the authors show that areas with especially large numbers of Covid-19 cases are also predominantly Latino and have very high environmental vulnerability scores caused by air pollution from trucks associated with the numerous warehouses in these neighborhoods, among other factors. 
The Inland Empire has long had notoriously poor air quality because natural air currents bring gaseous pollutants and particulate matter from the Los Angeles area while the warehousing and logistics boom has potentially increased emissions from diesel trucks and trains. Inhaling traffic-related pollutants like diesel particulate matter makes people more susceptible to a range of respiratory health problems. The authors cite a recent study that showed that small increases in particulate matter translate to an 11% increase in the Covid-19 death rate.
"Research shows that inhalation exposure to fine particles and other pollutants leads to increased inflammation in the lungs and the development of asthma. We need more information on the interaction between respiratory health and COVID-19 severity," said Ivey.
Many of the people living in Inland Empire communities devastated by Covid-19 also work in these warehouses and other essential occupations. They face the double jeopardy of greater vulnerability due to poor air quality and of workplace exposure. Many also have low wages and inadequate healthcare. The authors call for research into interventions that acknowledge and address the intersectional nature of Covid-19 inequities.
Sasser and Ivey were joined in the research by Bronwyn Leebaw, Brandon Brown, Chikako Takeshita, and Alexander Nguyen, all of whom are at UC Riverside. The open access commentary, "Intersectional perspectives on COVID-19 exposure," is published in the Journal of Exposure Science & Environmental Epidemiology and available here.