Celebration, liberation, and education are the themes of UCR's Second Annual Juneteenth Celebration, a four-day series of events featuring panels focused on history, freedom, and food.
The Black Faculty and Staff Association, or BFASA, began the campus celebration last year as a way to bring together students, faculty, and staff members. Organizers also discovered that some on campus were unaware of the holiday and wanted to highlight its significance.
"Juneteenth is my Fourth of July because it's the day all Americans were free," said Leslie Settle, chair of the Juneteenth planning committee and an access services desk coordinator with UCR Library. "To me, this is our Freedom Day. It's not a Black thing, it's an everybody thing."
Also known as Freedom Day or Emancipation Day, Juneteenth marks the date of June 19, 1865, when federal orders were read in Galveston, Texas, informing enslaved Blacks they had their freedom, more than two years after President Abraham Lincoln signed the Emancipation Proclamation.
Settle said she hopes it will become a national, state, or campus holiday in the future.
"To me, Juneteenth is a time of reflection but also a time of celebration on how far we've come as a people to have a unison of freedom," she said.
Although Juneteenth has been celebrated in Riverside, organizers said they knew of no previous formal events on campus. When the coronavirus pandemic shut down many community events, they decided to create their own online celebration, said Chanel Parrish, BFASA chair and a financial and administrative coordinator.
Both the pandemic and the death of George Floyd made clear the need for such a celebration, she said.
"If anything, it really sparked making sure this happened," Parrish said. "We needed something right now. The community, the Black community at UCR, we needed each other. We needed something to come together."
This year's event is bigger and better, she said. African Student Programs and the UCR Black Alumni Chapter are co-sponsors, bringing together students, staff, faculty, and alumni.
The main event on June 18 features keynote speaker Charles Lee-Johnson, an assistant professor and chair of the Department of Social Work at California Baptist University, who has spoken about Juneteenth and bringing cultures together.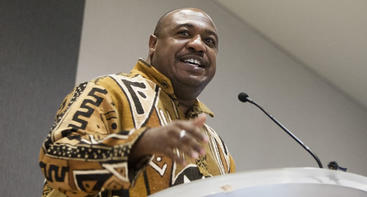 That event will also feature musical and spoken word performances. Another panel is devoted to Juneteenth cuisine, which Settle described as soul food created by African Americans who had to learn to make dishes pleasing to the soul when all they had access to were scraps.
The June 16 kickoff event called "Messages of Freedom" will feature video submissions from the campus community on the theme of expressing what freedom means to them.
A panel on Black fatherhood and motherhood includes Jamal Myrick, director of African Student Programs; and Deidre Reyes, a single mother of four who graduated this month from UCR and is the first in her family to graduate from college.  The organizers found Reyes' story inspiring and felt others could connect to her experiences.
"We want to highlight and showcase all of the amazing people that are here — our UCR family," Parrish said. 
Both she and Settle said they're also looking forward to next year when they hope to hold Juneteenth as a block party celebration on campus.
More information on the celebration and the full listing of events is available here.