Abigail Osunde excitedly took in her new room at UC Riverside's North District Apartments on Friday, wandering around her bedroom and the shared living room space as she moved in her belongings.
The 22-year-old junior's favorite room was the kitchen, where the Riverside transfer student said she expects to do a lot of cooking.
"It's so beautiful," she exclaimed.
"It has a cool, calm vibe," added her sister and move-in day helper Marvellous Osunde, describing the room. "I like the colors."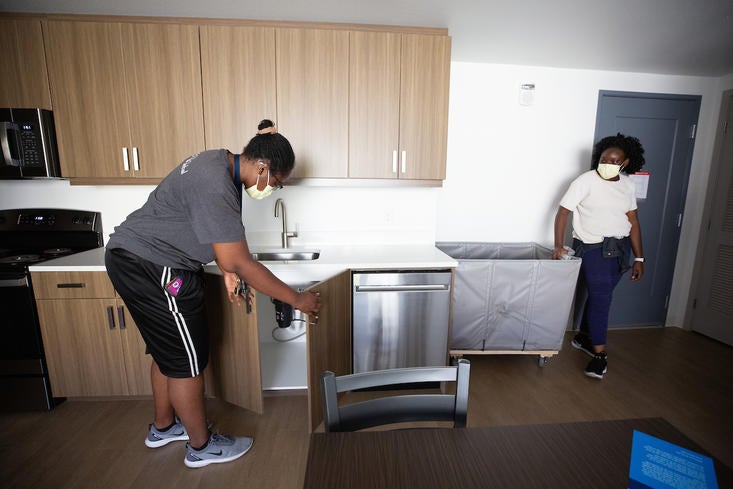 Abigail was among around 1,500 students to move into the campus' newest and largest housing development, which opened last week after almost two years of construction. 
Located at the north end of campus, the facility is two buildings, five- and six stories respectively, with a combined 544,000 square feet.
Each building features one, two, and four-bedroom apartment-style units that come furnished with beds, desks, and a fully equipped kitchen. In shared units, each individual room has separate locks.
The buildings, referred to as "A" and "B", come with a fitness center, laundry rooms, study areas, classrooms, and a multipurpose room. A dining venue, the Market at North District, will open with a convenience store and will soon offer hot entrees, coffee, boba, and ice cream.
Student lounges include couches, televisions, and pool tables. A game room in one of the buildings features three pinball machines and pool tables. An outdoor shaded patio area features benches with nighttime lighting and ping pong and foosball tables.
The outdoor mall between the two buildings is landscaped with palm trees, grass, and other greenery. The complex also includes smaller courtyards with different color schemes and furniture. One area features a raised grassy lawn in the middle while another has a set of hammocks next to a wooden deck path.
"Everything has its own personality and vibe to it but they all tie together," said Jordan Underwood, a leasing manager with American Campus Communities, which is managing the North District. 
Students and their families moving in Friday were impressed by what they saw.
"We are very pleased," said Jean Chow, as she accompanied her son, Joseph Lee, a freshmen, into the building. "A-plus-plus-plus."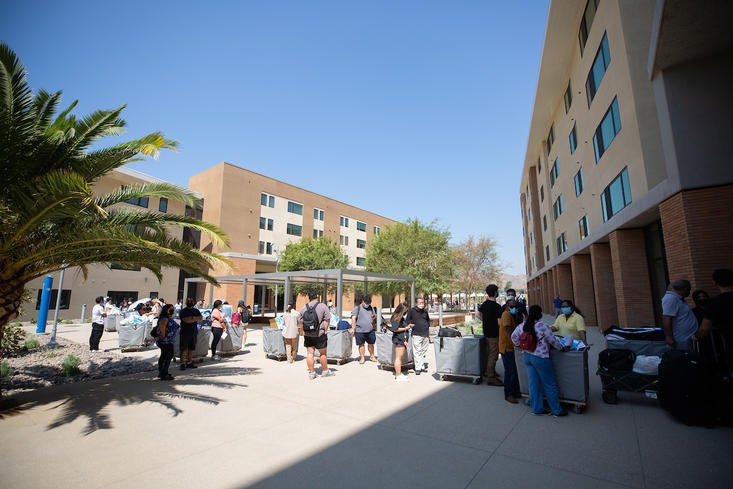 Aidan Schwartz, 20, of Portland, Ore., a junior returning to campus for the first time since his freshmen year, was joined by his father, Bryan Schwartz, for move-in day.
"It's definitely exciting for him to be back," Bryan said. "You can feel an energy on campus."
Aidan was looking forward to seeing his room and happy with the location.
"It's right by campus, by the SRC, walking distance from my friends," he said. "It's probably the best I could ask for."