U.S. Veterans Affairs Secretary Denis McDonough met with UC Riverside campus leaders and student veterans Tuesday, Oct. 5 to hear how the federal government can do more to support veterans.
McDonough visited the campus at the invitation of Rep. Mark Takano, D-Riverside, chairman of the House Committee on Veterans' Affairs. They were joined by Erica Scavella, associate deputy undersecretary for health for Risk Management for the Veterans Health Administration, for an afternoon luncheon at the UCR Alumni and Visitors Center.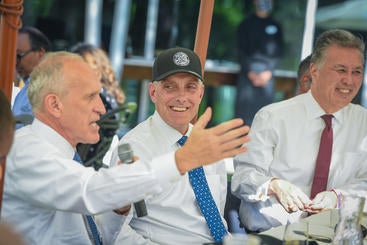 Chancellor Kim A. Wilcox said serving veterans is a crucial part of UCR's mission, highlighting the important role that the U.S. military and veterans play in the Inland Empire, which is home to March Air Reserve Base; the former Norton Air Force Base; and the Twentynine Palms base, the largest Marine Corps base in the country.
"I am grateful for the service of all our veterans who contribute so much to our region and grateful to spend time listening to our student veterans today," Wilcox said.
The campus has 242 veterans, reservists, National Guard, or active-duty military service members as students. The Veterans Resource Center, which provides support services such as financial aid and employment readiness, recently relocated to a central location on campus. UCR University Extension also offers several programs to help veterans develop new skills or careers, including support from student success coaches who work with student veterans.
Student veterans are an integral part of UCR's leading role in promoting social mobility, said Brian Haynes, vice chancellor for Student Affairs.
"They hold the key to our future success in transforming the world for the better and, more importantly, serving as global change agents," he said.
McDonough described veterans as the ones who've done the heavy lifting throughout the country's history.
"It's that service and spirit that you've lived that means every time the chips are down in this country, you're going to be the ones standing up," he said. "I want to make sure we at the VA will be your partners as you're developing your skills."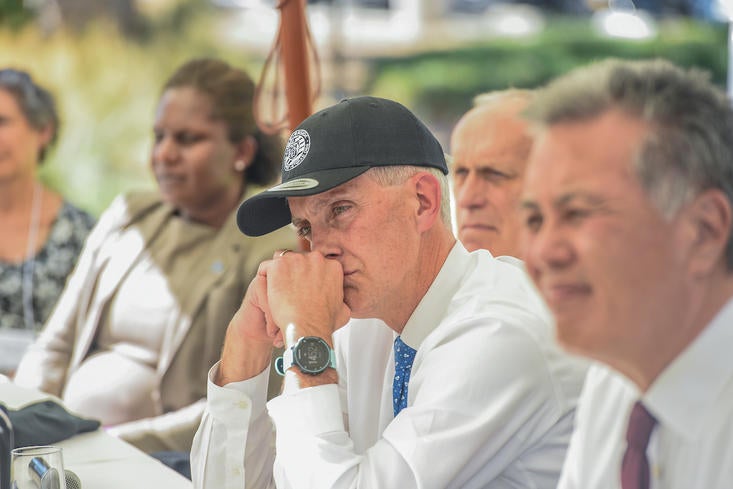 Student veterans at the luncheon shared their personal stories and the challenges they've faced in pursuing higher education. They also offered suggestions for how the VA can make it easier to process benefits or provide more transition services.
Gregory Sanchez, a history major and community college transfer, said his road to rebuilding his life had been a tough one since he completed his Navy service in 2007. He faced mental and physical health challenges, was homeless for a period, and convicted in 2018 of three felonies.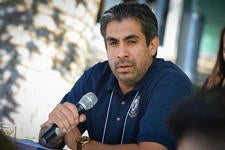 The Veterans Treatment Court helped turn his life around, and now as president of UCR's Underground Scholars Initiative, he advocates on behalf of former or currently incarcerated students.
"Education saved my life," Sanchez said. "It gave me a new mission. That's what a lot of veterans need when we get out of the military."
Maria Guerrero, a fourth-year medical student and Navy veteran who immigrated to the U.S. when she was 10, said she was aided by benefits paying for her undergraduate education.
"Just removing that financial barrier when I was an undergraduate, that means the world to somebody who immigrated here with their family," she said.
She suggested the VA create direct mentorship programs that link veterans to those pursuing similar fields.
Takano said it was inspiring to see students who've been able to use their benefits and succeed.
"Thank you, UCR, for making this campus a campus that welcomes veterans," he said.
Both he and McDonough promised to consider the suggestions and issues raised by students.
Christopher Fernandez, president of the Student Veterans Organization on campus and an Army veteran, has worked to bring attention to student veterans' concerns and was pleased with the meeting.
"I believe both the Congressman and the secretary, they absolutely heard us," he said. "I felt it was a good, productive conversation."