UC Riverside is opening a COVID-19 testing site on campus where employees can get tested regularly at no cost.
The employee testing center held a practice run with a small number of volunteers Wednesday, Oct. 20 and is expected to open next week.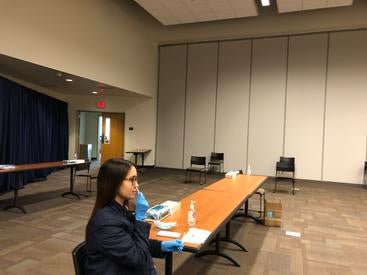 Located at HUB 302 North, the center will operate Monday through Friday from 9 a.m. to noon and 1 p.m. to 2 p.m. 
The site can take 15 appointments every 15 minutes and will eventually have the capacity to conduct up to 240 tests per hour, said Linda Roney, UCR's director of COVID-19 Management.
The campus opened the center to provide employees free and convenient access to testing, she said. 
The University of California is requiring all students, staff, and faculty members to provide proof of vaccination or request an exception. Those with approved exceptions are required to be tested weekly. Testing is also required for those with a confirmed exposure and for employees experiencing COVID-19 symptoms.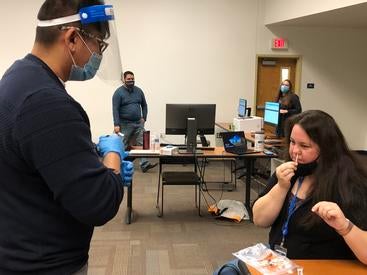 Employees must schedule an appointment in advance and will be seen in order of their scheduled times. Employees requiring testing will be sent instructions for how to schedule an appointment and weekly reminders.
Eventually, the campus hopes to make the site available to all employees who want to get tested, Roney said.
Signage at the HUB testing location will direct employees to the room. As they enter, a staff member will check them in and assign them to a station to take the test.
Ten tables have been placed in the room, each 10 feet apart, with test kits, laminated copies of the testing instructions, gloves, masks, hand sanitizer, and wipes.
The test kits, provided free through the California Department of Public Health and health technology company Color, use a PCR test that are considered the most accurate, Roney said.
The kits contain a nasal swab that individuals getting tested must rub inside each nostril for 15 seconds, place the swab inside a collection tube, and then place into a plastic bag that will be sealed. They will then be directed to deposit the kit in a drop box as they leave.
A trained staff member will be on hand at each station to observe and ensure that the test is conducted correctly.
The test kits will be express shipped to Color with results expected within 24 to 48 hours. 
UCR will not get the results of individuals but will receive an aggregated report from Color with the number of tests administered and positive results, Roney said. 
Results will be sent directly to employees via email or text. Employees may also check their results at Color's website.
Employees who receive a positive test notification are required to immediately report the results through the Daily Wellness Check.
UCR has a separate testing program for students in place since last fall. In December, the campus partnered with the City of Riverside to establish a testing site at Parking Lot 26 that is also available to students, employees, and the public and is designed for symptomatic and exposure testing.