UC Riverside began construction Friday, Oct. 22 of a new School of Medicine building that will allow for growing class sizes and increasing the number of physicians trained in the underserved Inland Southern California.
Campus and community leaders celebrated the start of the project at a groundbreaking ceremony at the project site south of the existing School of Medicine Education on the east side of campus.
"We are so excited to celebrate the groundbreaking of the School of Medicine Education Building II," said Dr. Deborah Deas, vice chancellor of health sciences and the Mark and Pam Rubin Dean of the UCR School of Medicine. "This building will provide the much-needed space for our medical students, faculty and staff, and it provides a path for the expansion our medical school class.  So much work has gone into the planning and design of this beautiful new building, and this event is a major milestone in the process."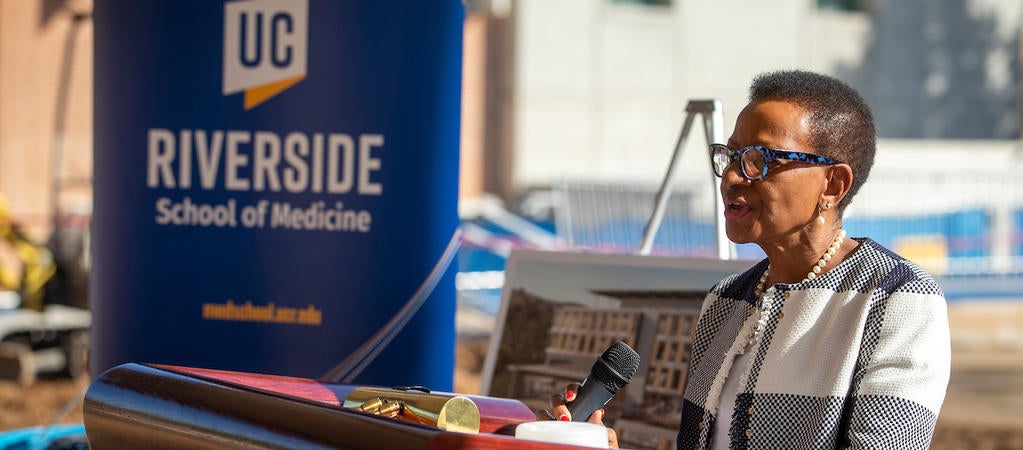 Several elected officials, faculty, students, staff, and community members attended the groundbreaking ceremony. Deas acknowledged the continued support and advocacy from dedicated legislative and external community partners.
"Thanks to your efforts, and those of Senator Richard Roth, Assemblymember Jose Medina and Assemblymember Sabrina Cervantes for advocating for the $100 million in state funding, we are ready to usher in a new era for the School of Medicine," she said. 
Dr. Cathryn Nation, vice president of University of California Health, spoke on behalf of the UC Office of the President.
"It is a tribute and a credit to the school's leadership to have faithfully articulated a mission that will serve the region well and have a set of values that are clearly articulated and evidenced in the outcomes we have seen so far: innovation, inclusion, integrity, excellence, accountability, and respect," she said.
Regent John Perez noted that the groundbreaking was a testament to UC Riverside and "its amazing trajectory."
"This isn't just about a school," he said. "It's about a vision of what a medical school can be. It's about a commitment to the medically underserved, it's about an investment in communities that have been ignored by too much of the medical infrastructure. Today we use shovels; tomorrow students will use more important tools to improve the health outcomes of people who live here in the Inland Empire and throughout California. And that should put a smile on all our faces."
Sen. Roth stressed that the medical school brings health home to the Inland Southern California region.
"This is a story of vision, of perseverance, of laser focus and of courage," he said. "It's a true town-and-gown story, a story of community-university collaboration dating back more than 47 years. A collaboration that is probably more unique than many of us realize, making progress inch by inch or, since this is a groundbreaking, cubic yard by cubic yard. But making progress all the while."
Assemblymember Jose Medina, who graduated from UCR in 1974 and represents District 61, recalled how on his first day as assemblymember he asked for $15 million for the medical school in the first bill he planned to introduce. 
"It has indeed been such a great journey to witness the first class of students get its white coats, to see that first class graduate, to be able to be here with the UCR medical students on Match Days," he said. "I look forward to the day when we will have equal healthcare to Orange County and Los Angeles, when we will have a UCR hospital here in Riverside."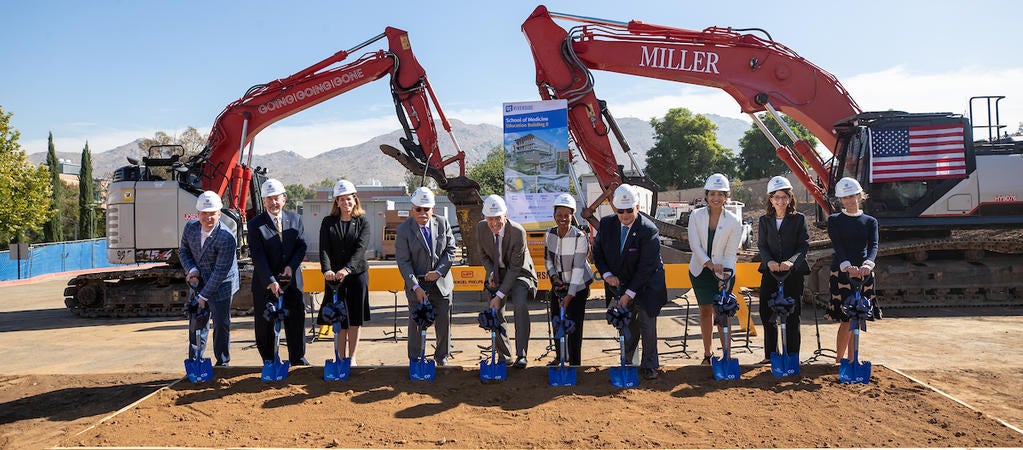 Riverside Mayor Patricia Lock Dawson said she was proud Riverside is a college town.
"We are proud to have talent that is innovative and creative, and we are proud to have problem solvers who make a positive impact in Riverside," she said. "However, it is no secret that our city, our region, needs more doctors.  And that was never more apparent than in these past 18 months.  I am confident that this historic project will meet the needs of our city and region and may have a generational impact for years to come."
Councilmember Clarissa Cervantes, representing Riverside Council Ward 2, said she wore green clothes to the groundbreaking because "green represents health, wealth, and healing."
"The School of Medicine has come into our neighborhoods, into our health centers, into our community centers, and has changed how our residents feel in terms of having equal access to health so they can grow, heal, and see themselves as people who are capable of healing their own communities," she said.
"This has been instrumental. I thank our visionaries, our community leaders who nourished this vision, who said this is working and we have seen that green, that health, that community wealth thrive."
A spokesperson for Assemblymember Sabrina Cervantes conveyed a congratulatory message to the School of Medicine for building a pipeline of medical professionals to fill the needs of the community and for the "physical, concrete, commitment to the future of not just UC Riverside and its students but to the community in Riverside and the Inland Empire."
Campus architect Jacqueline Norman said a new building can be transformative to the physical campus as well as to the education of the students who seek their own way to transform not only their lives but the lives of their community.
"When successful, architecture has the power to enrich every part of our lives and how we interact with and experience the world," she said. "I am confident that this new education building will do just that. The building will be filled with natural daylight. The design will afford easy connections to the outdoors at each level of the building, fostering an atmosphere of health and wellness."
Chancellor Kim Wilcox, who spoke last, explained why buildings come to be made.
"We build buildings for shelter," he said. "We build buildings also as places for people to assemble, for communities to come together. We also build buildings for worship.  We build buildings for learning.  We also build buildings as memorials or monuments. This new building will be all this — a place designed for others, not just in the medical school, to commune, learn, and think. It will inspire our futures."
Construction is anticipated to be completed by summer 2023.
The School of Medicine's Education Building II, or SOM Ed II, will have approximately 57,000 assignable square feet within 90,000 gross square feet. The design features an urban downtown theme that includes outdoor seating, terraces, and landscaping that will complement the existing buildings around it. 
The five-level building is the School of Medicine's largest expansion since it opened in 2013 and will allow the school to increase the number of students trained. The current class size of 80 will grow by an additional 45 to 125 students.
The project is the first building designed specifically for the school's needs and features state-of-the-art learning facilities that support modern medical education. It includes lecture halls, classrooms, problem-based learning rooms, meeting rooms for student functions, study space, offices, and other support space.
The Regents of University of California approved the budget and design for the building in March.  Hensel Phelps Construction/CO Architects, which completed the Multidisciplinary Research Building in 2019, was selected as the design/build team for the project.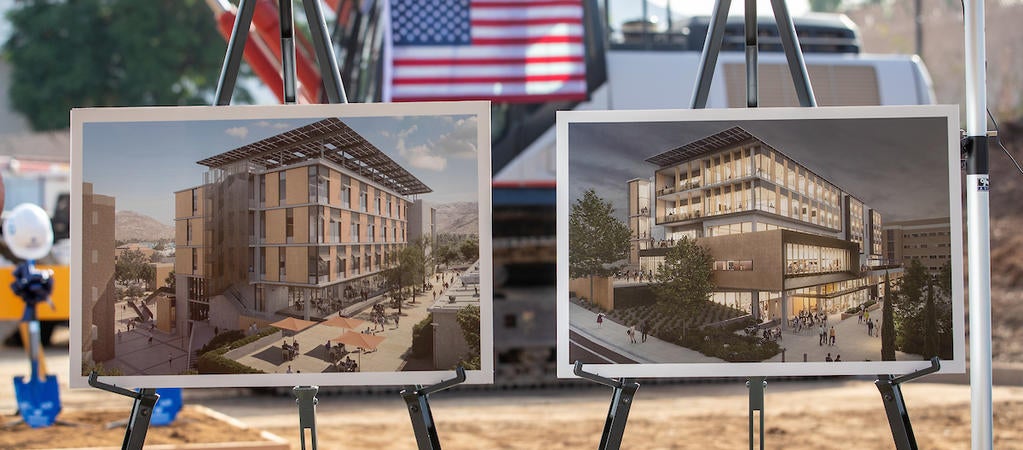 See more photos here.