Vanessa Gomez-Alvarado, alumna and public policy graduate student, secured a $40,700 grant in October 2020 to purchase a woodchipper and build the university's first Aerated Static Pile, or ASP, to reduce green waste and carbon emissions, and fertilize green spaces on campus. Her Aerated Static Pile Compost Project, or ASPCP, gives a nod to UCR's agricultural roots and helps the university advance the UC's pledge to become carbon neutral by 2025.
"I wanted to reduce the university's environmental impact and show students how easy it is to be more sustainable," said Gomez-Alvarado, who had been inspired by her sustainability studies classes and a 12,000-ton-per-year composting model employed by Washington State University. By making its own composted fertilizer, UCR reduces its approximate 832 tons of annual compostable waste and saves money that would normally be spent on carbon emissions-causing chemical fertilizers.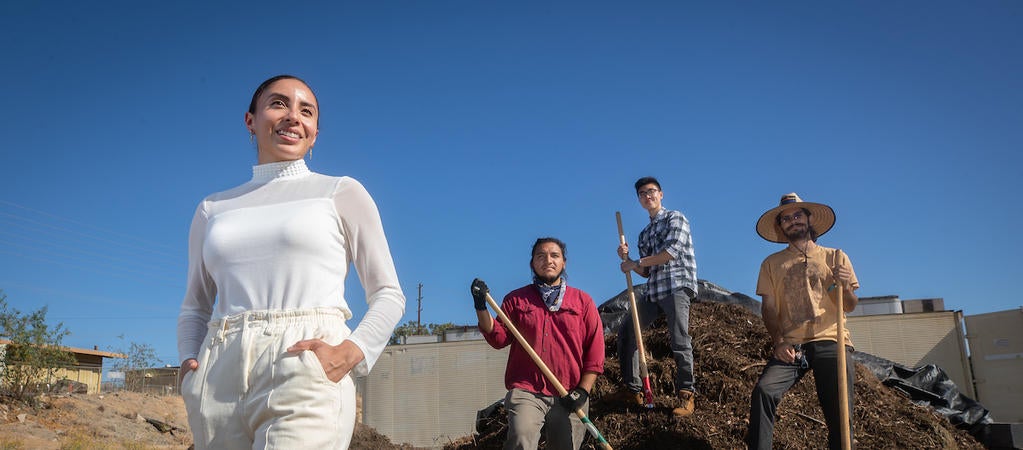 "Since I was the Green Campus Action Plan's director, I knew I could make this industrial-sized composting idea happen with GCAP's Large-Scale Initiative Grant," said Gomez-Alvarado. GCAP is a student-run sustainability program under the Associated Students of UCR. A portion of student fees goes toward the organization each year to fund GCAP grants and internship programs that empower undergraduates to pursue sustainability projects of their own. R'Garden Manager Richard Zapien served as the campus department sponsor, and Director of Agricultural Operations Peggy Mauk helped with facilities.
Gomez-Alvarado's proposed compost project was low-cost and low maintenance, focusing on the purchase of a VERMEER BC1000XL woodchipper to shred large branches. The chipper was purchased locally to reduce emissions and under Zapien's direction, a test model site was built at UCR's Agricultural Operations. The inaugural shred was made five weeks later, and perforated PVC pipes punctured the pile for oxygen distribution and moisture control. After 38 days, volunteer staff and GCAP interns distributed the first truckload of cured compost across the R'Garden.
By 2022, the project is expected to move from the test model site to a large, unoccupied plot of land nearby. The land was once toxic and while the university cleaned it, it sat unused for several decades. This will soon change, as Zapien intends to use the plot to transform about 30 tons of green waste into 13 tons of compost for the R'Garden. He expects these numbers to increase as the campus invests in the project's operation cost. 
"I see this project growing into a commercial-sized fertilizing operation, where UCR composts not just greenways, but takes in food waste," said Gomez-Alvarado. "It could become a composting model for other UC campuses and Southern California universities — maybe even the city of Riverside." 
Vanessa Gomez-Alvarado's advice for UCR Highlanders who want to inspire change on campus is to organize, get involved with organizations, and volunteer. "Do the surveys and sign the petitions," she said. "Show strength to be that voice of change."