Riding a bicycle to work comes naturally to Boris Baer and his wife Barbara Baer-Imhoof, both researchers at UC Riverside's Center for Integrative Bee Research, or CIBER.
The couple are originally from Switzerland where they never owned a car. Later, when they moved to Copenhagen, Denmark, and then Perth, Australia, they commuted regularly by bike. That tradition continued when they joined UCR in 2017 until they moved farther away from campus and began having to drive their children to school.
But during the pandemic, Baer, a professor of entomology, and Baer-Imhoof, an assistant specialist for pollination in the same department, found another opportunity to get back on their bikes. Now, they bike a couple days a week to campus.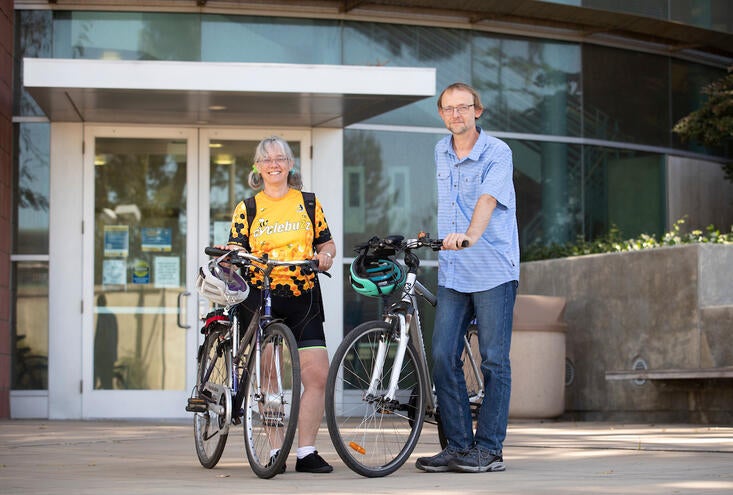 "We both enjoy the changing seasons and we both discuss life, work, and everything else in between," Baer-Imhoof said.
The couple are among the many students, faculty, and staff members who bicycle regularly to campus. As part of National Bike Month and Bike to Work Day on May 20, UCR's Transportation Services is highlighting its services offered to cyclists.
Transportation Services offers free California bike licenses and registration to all students and employees. It has about 1,000 active bicycle registrations and 231 bicyclists and walkers enrolled in an employee Alternative Transportation Program that provides an allotment of free parking passes and free day use of locker and shower facilities at the Student Recreation Center.
The campus has over 3,000 bike parking stalls in the form of racks, lockers, and covered cages, and six fix-it stations that are accessible 24 hours a day and include tools for minor repairs. 
Pedals Bike Shop returned in April after a two-year hiatus to a new location at Bannockburn Village where it offers repairs and sells parts on Thursdays by appointment. A student club, R'Cycle Co-Op, is offering free bike maintenance during lunch time near the Bell Tower and is organizing weekly rides.
UCR has promoted bicycling as an alternative transportation mode that saves money, reduces the campus's carbon footprint, and provides health benefits. 
Baer and Baer-Imhoof said they've found riding their bikes to be a great way to get back in shape and clear their minds. Their commute from their Riverside home is about six miles each way and includes a steep hill going back home.
They're able to store their bikes in their office and have facilities to change and clean up in the Entomology Building. Baer has even cycled to campus in his beekeeper's outfit so he can go straight to a beekeeping class he teaches.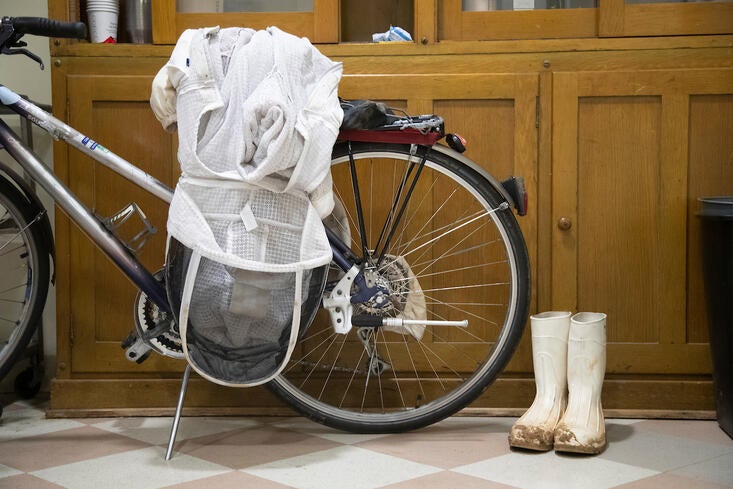 The couple say their time on their bikes allow them to enjoy their surroundings and talk without distraction. Baer-Imhoof said they've had work meetings where they discussed and resolved statistical problems they had encountered while working on a research paper.
"You're not on email, your phone is in the back, you have 40 minutes where you can really think about stuff," Baer said. "I really have the best ideas on the bike."
"It's quality time," Baer-Imhoof added.
Payton DePalma, a first-year graduate student in neurology, didn't bike much in her hometown of Westchester, New York or Chicago, where she lived before moving to California. But when she began school at UCR last fall, she immediately took to her bicycle and now rides to class every day.
"It's so easy to get around campus on a bike I almost couldn't justify not biking," DePalma said.
She noted the weather is usually nice most of the year and her home in the Box Springs neighborhood is about a mile away. It takes her seven minutes downhill in the morning and twice that going uphill back home. DePalma often encounters donkeys a few days a week, sometimes a couple on the sidewalk and other times a pack of up to 10 in the middle of the road.
"It does make me feel more connected to Riverside and to campus, and it brings me a great deal of pride," she said of riding her bike to campus.
Staying fit was the main inspiration for Steven Ries, a field supervisor for Agricultural Operations, who has been biking to work for 26 years. It's an eight-mile commute each way from Ries's home in Moreno Valley, taking about 25 minutes in the morning and about 45 minutes in the afternoon, when he's going uphill.
"I just like the feel of a bike," Ries said. "You have visibility all around you. You have nothing to keep you from enjoying the outdoors."
His route, taking side streets along the freeway, is often jammed with traffic but Ries said he's usually able pass the cars around him.
"That's a freeing feeling," he said.
When andré carrington joined UCR in fall 2020 and moved to Riverside that December, he came from cities like New York and Philadelphia where public transit, biking, and walking were a regular part of getting around.
An associate professor of English, carrington has found it a great way to explore and get to know Riverside and the surrounding region. He bikes to work from his Riverside home about three-and-a-half miles away and has taken it on Metrolink for trips to Orange County and Pasadena. 
"It's good exercise and it's a nice way to experience the neighborhood and the community on a ground level," he said, adding that it's also important to him to contribute to reducing his carbon footprint.