Gravitational waves. Black holes. The universe's origin. Becoming an astronomer. Why leaves are green.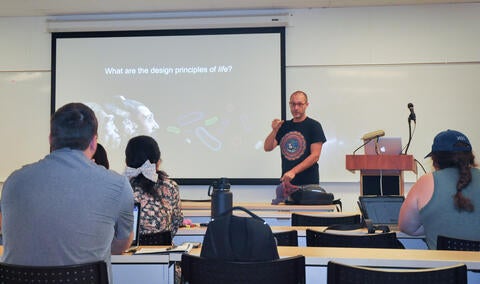 These are just some of the fascinating topics being discussed this week — June 27 through July 1 — by researchers in the UC Riverside Department of Physics and Astronomy in its 15th Summer Physics Academy. The weeklong academy, attended by high school teachers in Southern California, is an annual event that allows UCR physicists and astronomers to reach local high school students through their teachers.
"This is the first in-person meeting after two years of the pandemic," said Hai-Bo Yu, an associate professor of physics and astronomy, who co-organized this year's academy. "We organized online academies in 2020 and 2021. The program this year is richer compared to the online versions. This year, we have lab tours and a book club event where UCR physics students share their insights on how to increase participation and inclusion in physics."
Seventeen teachers based in Southern California are participating in this year's academy. One of them, Dona Sisk, is attending the academy for the third time.
"Both times I attended before were very helpful for including different ideas in the classroom," said Sisk, who teaches multiple subjects in grades 9-12 at Granite Mountain Charter School in Lucerne Valley. "As a result, I wanted to attend again. This time there seem to be more research presentations for help in the classroom. A couple of presenters have said that if we have students interested in physics, we could have them contact the presenters; that has been very helpful."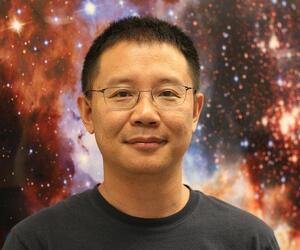 The Summer Physics Academy, co-sponsored by the Department of Physics and Astronomy and the California Science Project, receives support from the National Science Foundation.
"Physics education is crucial for students to succeed in the STEM fields," Yu said. "In California, especially in the Inland Empire area, the percentage of high school students taking physics is astonishingly low compared to the national average. Through the academy, we hope to build a community for the teachers and provide a communication platform between teachers and UCR faculty. The teachers can bring the excitement of cutting-edge research and hands-on experience from the academy to their students and encourage them to take an interest in physics and pursue STEM careers."
Maria Chiara Simani, the executive director of the California Science Project and co-organizer of this year's academy, said more than 50% of this year's participants are teachers with 0-5 years experience with teaching high school physics. The Riverside Unified School District, she said, is moving to enroll all their special education students who are on the diploma track in at least one year of physics starting with the 2022-2023 school year.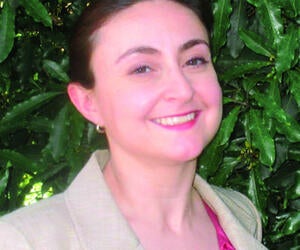 "Our academy provides teachers with an opportunity to connect with educators in our Inland Empire region and refresh their physics knowledge," she said. "In the academy the UCR physics faculty and the California Science Foundation offer a variety of interactive presentations in which teachers experience how to think like scientists, a feature of the Next Generation Science Standards adopted in California in 2014."
For first-time attendee Jessica Patalano, who primarily teaches 11th grade at San Gorgonio High School in San Bernardino, connecting with fellow-educators has been extremely beneficial.
"I am the only physics teacher at my school, and I am a new teacher," she said. "Knowing that I am on the right track and that the other teachers can help me out has helped. My students would like me to talk more about careers. Attending the academy has helped me with that as well. Many of my students aren't going to go into physics but now I can share better with them what's something they've learned that has real-world applications."