A rare sight — and smell — is on display at the UC Riverside Botanic Gardens with a corpse plant expected to bloom in the coming days.
This will be the first time it has bloomed since the gardens began growing the tropical plant, officially known as Amorphophallus titanum, in 2007 from seeds acquired from the Huntington Library, Art Museum, and Botanical Gardens in San Marino.
It's a unique opportunity for visitors to experience the plant, which can take a decade to bloom and only stays in full bloom for a short period of about 24 to 40 hours, said Jodie Holt, director of the Botanic Gardens.
The exact day that it will happen is difficult to pinpoint, but they expect it will happen later this week or early next week, she said.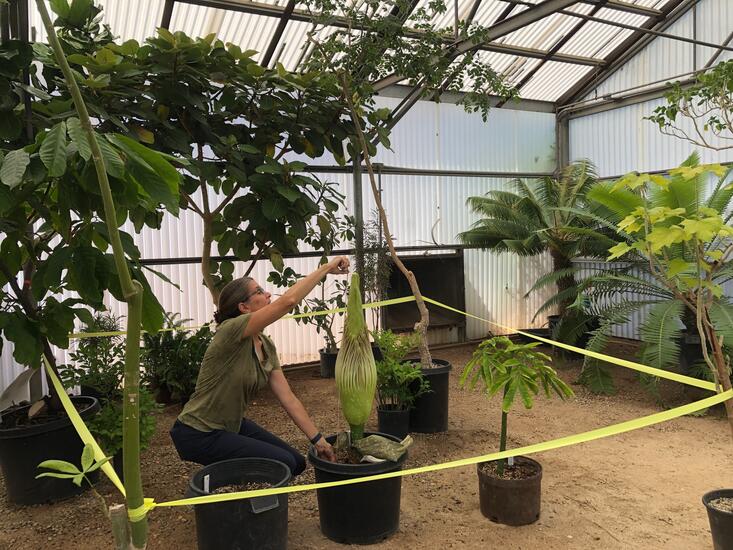 Corpse plants are notable for their giant stature, bright blood-red or burgundy color inside the flowering stalk, and pungent smell similar to rotting meat when in full bloom. Native to Sumatra, Indonesia, where only a thousand are believed to be in the wild, the endangered plants are pollinated by carrion flies and dung beetles, a key reason for their strong stench.
"You'll walk by and think, 'What died here?'" Holt said.
The corpse flower at the Huntington was referred to as Big Stinker as the plants can grow up to eight feet tall. The Botanic Gardens staff have given a similarly affectionate nickname to their smaller plant, which is three feet tall and is expected to grow another five to six inches when it blooms.
"We're calling it Little Miss Stinky," said Janine Almanzor, a curator with the gardens.
She and staff only realized that the plant was ready to bloom Friday, July 15, when they noticed the bracts, or protective modified leaves, folded around the growing shoot had cracked open and its thick inflorescence, or cluster of flowers, began to grow in height. Once that happens, the inflorescence typically blooms in seven to 10 days.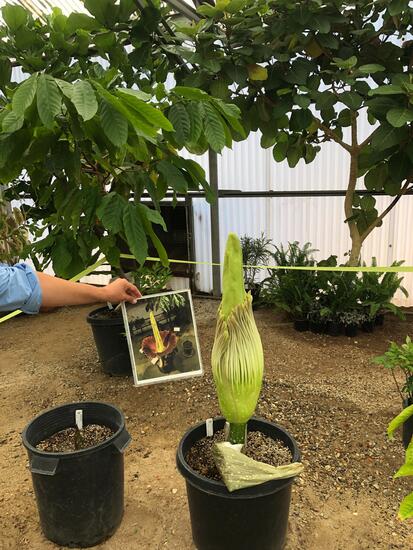 It's only within that short window of time that the plant offers any indication if it will bloom. Typically, a large leaf will grow annually from the plant's underground stem, known as a corm, until the corm reaches sufficient size to support production of an inflorescence, of which the corpse plant boasts the largest in the plant kingdom.
The inflorescence's temperature will also rise as it gets ready to bloom, so Almanzor has been checking the plant base with an infrared thermometer and measuring its height on a regular basis.
The plant is stored in a temperature-controlled greenhouse, along with two smaller corpse flowers, that is normally not open to visitors. However, for this rare occasion visitors will be allowed inside accompanied by gardens staff.
How to see the corpse plant
Hours: The Botanic Gardens are open Sunday through Friday, 8 a.m. to 2 p.m. Normally closed on Saturdays, the garden may remain open if the plant is in bloom that day. Check the Botanic Gardens website and social media pages for updates.
Admission: Visitors are not charged for admission, although a $5 donation is suggested per adult visitor. To support the gardens and help complete the conservatory that houses these rare plants, donate here.
Location: 1 Botanic Gardens Drive, Riverside