Teresa and Byron Pollitt, who have been generous donors to UC Riverside over the years, have donated a gift of $250,000 to establish the School of Medicine Mission Award Scholarship Endowed Fund to support students at the medical school by covering 100% of tuition and fees.
The gift offers a match challenge to attract new donors and gifts in support of the fund. Gifts and pledges to this fund made on or after April 1, 2022, will be matched dollar for dollar by the Pollitts. The last day of the match challenge is December 31, 2022.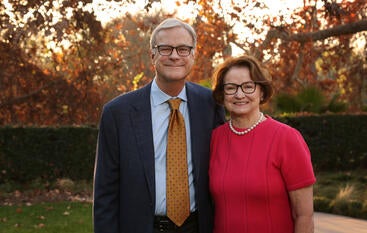 "As we grow this fund, it will make a profound impact on the retention of a diverse physician workforce in Inland Southern California and will continue to challenge other donors to contribute," said Deborah Deas, vice chancellor for health sciences and the Mark and Pam Rubin Dean of the School of Medicine. "Currently, our region faces an acute physician shortage that this fund directly addresses."
Recipients of the Mission Award Scholarships must commit to practicing medicine in the Inland Southern California for at least five years upon completion of their residency training. Should awardees not be able to honor this commitment, the scholarships convert into loans.
Additionally, scholarship recipients must agree to practice in one of the following specialties: emergency medicine, pediatrics, family medicine, general internal medicine, OB/GYN, general surgery, or psychiatry. Students in good academic standing in the medical school are eligible for the scholarships, which are either for all four years of medical school or for two years, covering the third and fourth years.
In recognition of the Pollitts' support, five spaces in the medical school's Center for Simulated Patient Care — the Simulated Emergency Room, Simulated Intensive Care Unit, Simulated Obstetrics/Gynecology, Simulated Operating Room, and Simulation Monitoring Room — will be named after them to recognize their philanthropy.
"We were both so impressed with the School of Medicine's commitment to hands-on-training, which really came to life in the simulation labs," the Pollitts said in a statement. "This type of preparation will most certainly be a hallmark of UCR-trained physicians."
The Pollitts met each other on campus in the 1970s. Teresa Pollitt graduated from UCR in 1974 with a bachelor's degree in psychology and later earned an MBA from the University of Southern California and a Chartered Financial Analyst credential. She was a security analyst with the investment counseling firm Scudder, Stevens & Clark for 15 years, rising to the level of vice president. She has served on the board of the National Charity League and held numerous volunteer leadership positions supporting the Children's Hospital Los Angeles, the Junior League, and the public schools that educated the Pollitts' three daughters.
Byron Pollitt graduated from UCR in 1973 with a bachelor's degree in business economics and later earned an MBA from Harvard Business School where he graduated as a Baker Scholar. He began his career at McKinsey & Company, and served as CFO for Walt Disney Parks and Resorts, Gap, and Visa, where he helped lead the then largest IPO in US history in terms of money raised. Now retired, he serves on the boards of Voya Financial and Children's Hospital Los Angeles. In 2015, he received UCR's Distinguished Alumnus Award.