Reproductive rights are a central issue that may determine the outcome of the upcoming midterm election. Vice President Kamala Harris met with 75 student leaders from 33 different states on Oct. 14 to review ways to address reproductive rights. Among the students was Catherine Mah, 19, a UC Riverside student and second-year public policy major.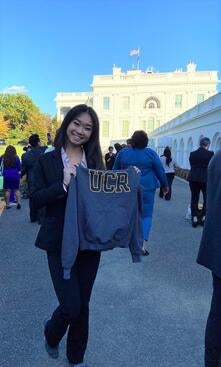 Mah was one of three University of California students at the meeting, representing the UC system. The student roundtable was the latest in a series of events from the Vice President to advance the issue of reproductive rights, in the wake of the Supreme Court overturning Roe v. Wade in the Dobbs decision. The importance of voting in midterm elections was the centerpiece of the meeting. 
The overturning of Roe v. Wade means it is left up to each state to decide on legislation regarding abortion, with many states banning it or placing severe restrictions. Experts, including United Nations human rights experts, warn that more restrictive laws are likely to increase the number of women and girls seeking unsafe abortions, an issue that disproportionally affects women of color. 
"Reproductive rights are so important that it's not just about abortion, but it's also about feminine health and educating about the stigma of periods," said Mah, a woman of color and a strong advocate for bodily autonomy.
Mah galvanized her resolve to advance these issues in social and reproductive justice, while still in middle school and high school. She began working with a nonprofit organization, Generation Ratify, and is currently the communications director for the California team. Their goal is to ratify the Equal Rights Amendment into the constitution to ensure everyone in the country has equal rights. She previously discussed the importance of equitable reproductive rights and their advancement with California Attorney General Rob Bonta with a smaller delegation of students in the San Bernardino area.
The trip to Washington D.C. was three days, from Thursday to Saturday. Mah was housed in a UCDC apartment during her stay. UCDC housing is for UC students participating in internships in Washington and through the partnership of the UC system. Mah was thankful to UCR and the School of Public Policy for allowing her to represent student voices and giving her the resources to do so.
Mah was moved to see so many other students dedicated to promoting reproductive justice.
"I really did enjoy understanding how there are others out there, and how together we can really fight for great causes and provide equity in this world," she said. "That's how bigger movements start happening."