Finding a chilled and filtered drink of water at UC Riverside is easier than ever.
The UCR Healthy Beverage Initiative, part of the larger UC Healthy Beverage Initiative, has completed installation of 47 new hydration stations and water fillers throughout campus.
The installations, which were delayed in part due to the pandemic, began last year and were completed this fall. The project targeted buildings that lacked drinking water stations or only had older traditional water faucets that had been shut off at the start of the pandemic.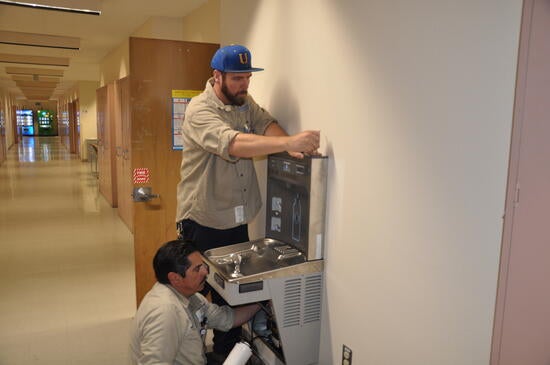 With the completion of the project, every campus building now has a hydration station or water filler on its first floor, said Amanda Grey, co-lead for the initiative and environmental programs manager with Environmental Health and Safety.
The initiative's goal is to promote drinking water instead of sodas and other sugar-sweetened beverages on campus.
"We're significantly increasing access to no-cost drinking water," Grey said.
UCR joined the UC Healthy Beverage Initiative, which encouraged each campus to create its own program of promoting tap water as a healthy alternative, in fall 2019.  Each campus received $140,000 in funding from the systemwide Human Resources department.
Prior to the initiative, UCR only had 55 hydration stations at various buildings while most had older drinking fountains. 
The project retrofitted 25 locations, making plumbing and electrical modification in some cases, to add a hydration station. The hydration stations are hooked up to a refrigeration system so the water is filtered and chilled. They feature a touchless sensor that activates the water dispenser when bottles are placed underneath.
In addition, water fillers were installed at 22 locations. Those don't feature a touchless sensor but have a lever underneath a spigot that users can push their water bottle against to dispense water. Most of those are also refrigerated.
"It's an upgrade, for sure, in almost every one of these instances," said Joe Dyer, plumbing supervisor for Facilities Services.
Locations for retrofits or new installations were chosen based on a survey of the campus community, with particular emphasis placed on areas where there were gaps or "water deserts," Grey said.
In addition to ensuring that everyone on campus has easy access to water, the Healthy Beverage Initiative is also trying to make it easier to find a water station.
Plans are underway to create an online campus map of each location. The mapping system will include photos of the new drinking water locations and nearest building entries for each location.
The initiative plans to promote the campus water stations through an awareness campaign that will include social media, distribution of stickers and magnets, and posters displayed in the HUB.
"This project makes drinking water more easily available, which we hope will increase consumption of tap water as a healthier choice," Grey said.