For decades, Nuestra Cosa provided a platform for UC Riverside's Chicano students to share their stories, poetry, and art with the campus.
After the newspaper stopped publishing in 2012, much of that history became harder to find, with back issues tattered or fading away. A new project has made those voices available once again in a digital collection where readers can browse through the 40-year span of the newspaper.
The project converting almost 100 issues of Nuestra Cosa into a digital format was a collaboration between the UCR Library and Chicano Student Programs, or CSP, as well as student groups Teatro Quinto Sol and the Encuentros, Student Participatory Research Project (ESPARiTU).
It was unveiled last month at a gala celebrating the CSP's 50th anniversary, which also marks the 50th anniversary of Nuestra Cosa, which published its first issue on Dec. 7, 1972.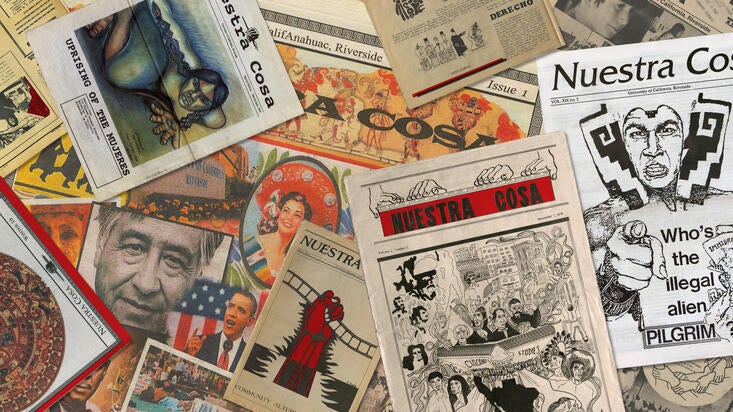 The celebration included displays of newspaper covers and was attended by alumni who wrote for the publication. It was a powerful experience to share the project with contributors to Nuestra Cosa and the community it chronicled, said Sandy Enriquez, a special collections librarian who oversaw the effort for the library.
The publication, whose title translates into "Our Thing" in English, was founded by Movimiento Estudiantil Chicano de Aztlán, or MEChA de UC Riverside, a student organization founded in 1969 during the Chicano movement with chapters at universities across the United States. It was created at a pivotal time when student members were active in the social and political issues of the time and were seeking to increase their representation on campus.
The archive also includes a 1969 publication called Adelante by MEChA de UC Riverside that was a precursor to Nuestra Cosa.
The project is the latest step in making documents and records of campus history more accessible. Earlier this year, the library posted the complete archives of the Highlander student newspaper on the same Calisphere database where Nuestra Costa is now available.
Calisphere includes digital records from all 10 University of California campuses along with a variety of historical records from libraries, archives, and museums throughout California.
The project to add Nuestra Cosa to the records began more than a year ago when Arlene Cano Matute '08, '15, assistant director of Chicano Student Programs, met with Enriquez about creating a collection for the group as part of its 50th anniversary.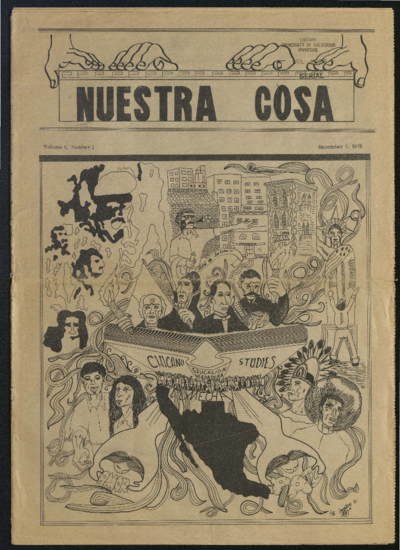 Enriquez began searching for materials about historically excluded groups, including the Chicano community, in special collections and came across old issues of the newspaper. Although they can be requested and viewed by visitors, Enriquez thought they should be more easily and widely accessible, especially to the Chicano community.
She noted that seeing old articles in the newspaper resonated powerfully with students who have visited special collections as part of class assignments.
Due to the significance of the project to the Chicano and Latino community, the library reached out to CSP staff and the student groups who provided input and helped compile newspaper issues. CSP was able to fill in the gaps where the library was missing some issues and provide context to the stories published, Enriquez said. 
Nuestra Cosa provides a different side of UCR's history, Enriquez said.
"What I really hope students get out of it is a reflection of their own community – that connection," she said. "There are so few opportunities, unfortunately, for students of color, students from underrepresented backgrounds like immigrant families to feel their experiences are reflected in the general narrative of UCR. Nuestra Cosa does really provide that authentic connection."
The project is meaningful to Cano Matute, CSP's assistant director, in many ways. As a doctoral candidate in the School of Education, her dissertation was on creating a historiography of the Chicano and Latino student presence at UCR from the 1960s and 1970s. And as an undergraduate student from 2004 to 2008, Cano Matute was a member of MEChA and a writer and editor for Nuestra Cosa, which she described as bold and unapologetic. Cano Matute is also the principal investigator for ESPARiTU, which is made up of undergraduate Chicano and Latino students.
"It was a tool for organizing, a tool for sharing our stories with the community and educating our larger campus about issues that were important to the students," she said. "It provided a really authentic and powerful voice for the authors and editors."
Nuestra Cosa was both hyperlocal and global in its approach, covering issues at the campus level as well writing about national and international issues. It featured articles on the farmworkers movement, the fight for ethnic studies to be included in the curriculum, and immigrants' rights.
The newspaper was not published on a regular schedule, sometimes with a few issues a year and sometimes just one. In its third issue, the masthead described its publication schedule as "whenever we can get the stuff together."
Students volunteered their time, balancing classes and other activities, and had to fundraise to publish the newspaper, Cano Matute said.
After it halted publication, a print zine called Nuestra Cosita took up its legacy in 2015 and is published occasionally in conjunction with special events.
The newspaper records provide a lens to view how Chicano student representation at UCR has grown and what it took to achieve that growth, Cano Matute said.
In 1972, UCR had fewer than 300 Chicano students. As of fall 2021, the campus had more than 10,000 Chicano/Latino students enrolled. Since 2008, UCR has been a Hispanic Serving Institute, a federal designation of enrollment of at least 25% Hispanic undergraduate students.
"This story really fuses and brings us together on this continuum that we are all Highlanders," Cano Matute said. "We're critical to this story of UC Riverside and our community is critical to the story of Riverside."