A new Riverside Transit Agency bus route is making it easier to get to and around UC Riverside.
RTA launched Route 56 on Jan. 8, restoring service between the Hunter Park Metrolink station and campus that had been cut a few years ago due to the pandemic.
The new route benefits the campus in several ways. Commuters on the Metrolink Perris Valley line can now hop on board the bus and get to campus directly. Other commuters who drive can also use the station parking lot to park for free and take the bus to campus.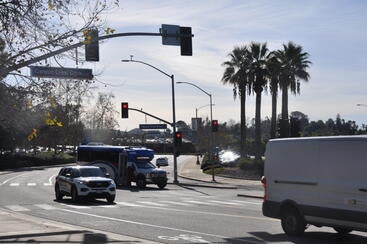 The bus service, which UCR asked RTA to add and is helping subsidize, also includes more campus stops than any other route and loops around most of the campus.
"That's something we've never had before," said Tara Elizabeth Pueschel, transportation demand management specialist with Transportation Services.
The route goes through the north end of campus with stops on Linden Street, Aberdeen Drive, and East and West Campus drives and will provide access to the under-construction School of Medicine Education II building and planned new School of Business building.
With the increased stops and loop around campus it also provides a convenient option for those seeking to get to one end of campus to the other, Pueschel said.
RTA buses are wheelchair accessible and allow for bicycles. Students, faculty, and staff members can ride for free on RTA by registering through Transportation Services.  RTA recently launched their GoMobile App, which allows riders to plan their trip, view arrival times, and get service alerts.
The new route is one of five serving the campus. The others are: 
•    Route 1, which goes from Corona to downtown Riverside (with connections to the downtown Metrolink station) to Bannockburn.
•    Route 16, which comes from Moreno Valley and enters the south end of campus, along West Campus Drive to Bannockburn.
•    Route 51, also known as the Crest Cruiser, is a specialized line operating only when the campus is open that goes from the Canyon Crest Town Centre and loops around areas of Riverside surrounding the campus.
•    Route 204, an express commuter line which starts in Montclair with stops in Ontario and downtown Riverside before arriving at campus.
Between July and December 2022, RTA reported 50,870 boardings by UCR employees and students, showing bus ridership slowly increasing after dipping during the pandemic.
Find out more about bus services at the Transportation Services bus information page and find maps and schedules on RTA's website.